Paul Wolfowitz had a "toe"-totally embarrassing moment during his visit to a Mosque.
During an official visit to Turkey, Paul Wolfowitz, who heads the World Bank, revealed two giant holes in his socks on Sunday while on an appearance at an Ottoman-era mosque.
Wolfowitz was obeying local customs when he removed his shoes in the mosque in the city of Edirne in western Turkey.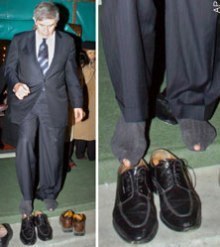 ©unknown
But he should have known there was trouble afoot when he tried to put them back on after touring the mosque, only to display two unsightly holes - one in each sock.
Wolfowitz, 62, was in Turkey on a two-day visit where he met with Turkish Prime Minister Recep Tayyip Erdogan to discuss the country's economy and lobby for its inclusion into the European Union.