About nor
Aware, open, growing. I have been lied to and asleep for most of my life. The shocks that have occured and continue to occur on my journey of understanding (in an esoteric sense)have been disruptive and difficult. Yet I soldier on. I would rather be tattered and battered in truth than blissful in ignorance. The most difficult brainwash to reverse has been my religeous beliefs. Initially it was as if someone pulled the rug from under me. It was a loss as personal as any I have ever experienced. Yet I soldier on. The second toughest has been to objectively perceive the government on the domestic and international stage. This struggle continues, the lies are powerful and I want to believe - I want the Dream to be true. Even knowing that it [the American Dream] is not true is not enough to undue the illusion. I must be vigilant in my objectivity. And always soldier on.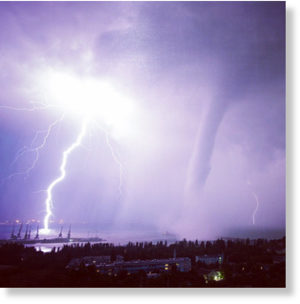 Large waterspout and lightning off Feodosia, Crimea peninsula, Russia. Sept 6th 2018.
Given that China was arguably the leading power in the world from c. 1100-1800, and was certainly the leading power in the East Asian region, one would anticipate that the smaller powers in that region would have balanced against it. But this in fact did not happen. The reply might be in turn that this was because China was the kingpin within the international tribute system, and was therefore an imperialist power. But arguably this system was neither imperialist nor could it be explained through the 'conventional practices' associated with Western great power politics.
- John M. Hobson
Recent Comments
Hey rincedick... you feelin' any better hon? LOL
---
Ryan McMaken of Mises Wire is a libertarian... go figure
---
Aldous Huxley's Brave New World [Link]
---
Fake news ! People don't know what to do with all that money they got last year from Trump corpo tax cuts thus making working people significantly...
---
Canada will be the second country in the world to legalize medicinal and recreational cannabis He also gave constitutional protection to LGBT folk...