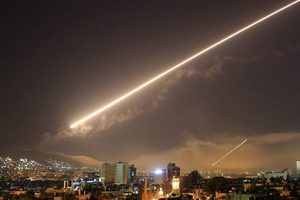 Syrian air defense systems protecting Damascus - the oldest continuously-inhabited city on Earth - from Western airstrikes, 14 April 2018
If you look for truth, you may find comfort in the end; if you look for comfort you will not get either comfort or truth only soft soap and wishful thinking to begin, and in the end, despair.
- C. S. Lewis
Recent Comments
like was said before it was all staged for the people nothing more
---
Wow! A personal death wish and a backhanded compliment all in the same thought. Bail out guys.
---
Would be better to throw a tantrum, call him names, than get in a fist fight.
---
Yikes...born and raised in Chiraq...back in the '80's, an entire week of -60 with the wind chill...nice in the summer there, sucks the rest of the...
---
So much for the idea of "Best Practices".