About Alejo
Name: Alejandro Rodríguez

Alejandro has been a SOTT editor since 2014. A Graphic Designer by profession, his curiosity led him to doing research and learning about anything he could get a hold of on the Internet. He is fond of saying, "If you cannot explain it in a simple manner, you haven't fully understood it." That sums up his tendency to want to try and understand as fully as possible the planet that we all share.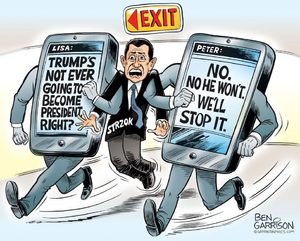 Strzok has left the building
What is truth anyway? The truth is the essence of something, its natural state, something as it really is. For me, it is really a quest for love, because to truly love something I must know it for what it really is. Perhaps we can sense in an unconscious way that there is a deeper truth to everything and everyone, and we are led to search for the truth about it, so that we can truly love it for what it really is.
- Joe Quinn
Recent Comments
God what a mess. How does the land recover ? ?
---
to answer your query, According to Article II, Section 2, Clause I of the Constitution, the President of the United States is "Commander in Chief...
---
Dear, the horrible truth of the matter is. that as long as he has the military on his side... he can carry on the fight. any leader, of any nation...
---
So how much say does POTUS have in actual military action?
---
Is the point of dropping a bomb every 12 minutes to keep the manufacturers in business? Could Trump actually control that if he wanted, could he...