About Alejo
Name: Alejandro Rodríguez

Alejandro has been a SOTT editor since 2014. A Graphic Designer by profession, his curiosity led him to doing research and learning about anything he could get a hold of on the Internet. He is fond of saying, "If you cannot explain it in a simple manner, you haven't fully understood it." That sums up his tendency to want to try and understand as fully as possible the planet that we all share.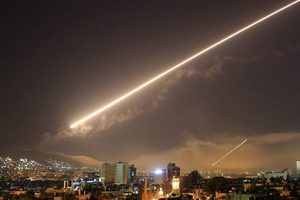 Syrian air defense systems protecting Damascus - the oldest continuously-inhabited city on Earth - from Western airstrikes, 14 April 2018
All truths are easy to understand once they are discovered; the point is to discover them.
- Galileo Galilei
Recent Comments
Interesting article Michael Peck, thanks for the history lesson but, "Putin's macho nationalism"? We should all be so lucky to have leadership...
---
Great article, Andres. Sarah Abdallah and Syrian Girl are doing good work for the mainstream to have taken notice and put out hit pieces on them.
---
Ther always China as a supplier. How can U.S. foreign policy wonks miss the fact that their 'sanctions' only serve to strengthen the economies...
---
This is so much BS. First, that agency is obviously a great place for a wanna be power mad murderer should find a job. But there are legitimate...
---
I hope its Judge Judy they have to stand in front of when the case is presented...........LMAO.............."Look at me Ms Clinton........do I...