About Alejo
Name: Alejandro Rodríguez

Alejandro has been a SOTT editor since 2014. A Graphic Designer by profession, his curiosity led him to doing research and learning about anything he could get a hold of on the Internet. He is fond of saying, "If you cannot explain it in a simple manner, you haven't fully understood it." That sums up his tendency to want to try and understand as fully as possible the planet that we all share.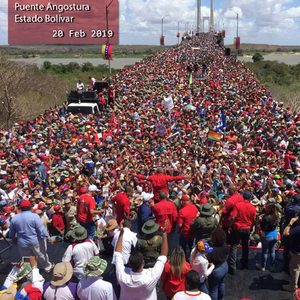 20 February 2019: Pro-Maduro demonstration on Angostura Bridge in Bolívar state, Venezuela
A man may die, nations may rise and fall, but an idea lives on.
- John F. Kennedy
Recent Comments
Aka "random guy" [Link] lol. Also from MoA: The Branson 'Live-Aid' Concert garnered 20,000 or less as opposed to the 200,000 claimed by WaPo. I...
---
Trump said MAGA, not MEGA.
---
On-Going coverage [Link] And then we ve got idiots like this [Link] RIP Little One
---
John Pilger is a hero (and I don't generally believe in 'heroes'), a great documentary filmmaker and a high-quality truthtelling reporter who is...
---
Inadvertantly? My ass and buttermilk! R.C.