About Vulcan59
Name: Nacluv Ekim

Nacluv Ekim is ex-military pilot and an airline pilot and trainer. His interests include health, technology, high strangeness, and all areas of science and spirituality. He joined the SOTT editorial board in 2010 and contributes his scientific and aviation expertise to many articles. He lives in New Zealand with his family.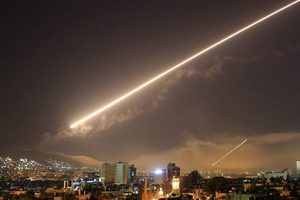 Syrian air defense systems protecting Damascus - the oldest continuously-inhabited city on Earth - from Western airstrikes, 14 April 2018
All truths are easy to understand once they are discovered; the point is to discover them.
- Galileo Galilei
Recent Comments
10 days!?!... in some cities you get more time for jaywalking!... and no fine!!??!!... oh wait, maybe it's because the saw how criminal the Majic...
---
Maybe the RF should now arrest some UK spies and keep them in induced coma until Yulia is set free?
---
Same as when OCSE investigators in Ukraine retreated to Kiev for weeks, instead of investigating MH17.
---
What about Syria?!?!?!.......shame on Trump...shame on the West!!!
---
Thanks! Brilliant! And a spectacular vindication of Lyndon LaRouche and Helga Zepp-LaRouche. I thought Lyndon was a bit nutty, mad conspirator,...