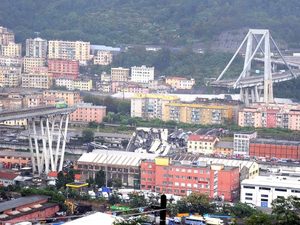 14 August 2018: Morandi Bridge in Genoa, Italy, collapses during a storm, killing 35 people
If the doors of perception were cleansed, everything would appear to man as it is, Infinite. For man has closed himself up, till he sees all things thro' narrow chinks of his cavern.

'The Marriage of Heaven and Hell'
- William Blake
Recent Comments
from 2ketodudes [Link] Interview with Dr Noakes [Link] Interviews with Dr Fetke [Link] [Link] [Link]
---
Astrology of the Kerala floods [Link]
---
If this is intended to scare people, I can imagine it working the other way. Some will try to "summon" a sasquatch this way only out of curiosity.
---
I know it's not the popular stance, but this all sounds like a mighty loser's game to me. It doesn't surprise me one bit that Justin Trudeau's...
---
Zionism is a political ideology built upon the two supporting pillars of: 1 Talmudic Worldview 2.Usury. It was formulated and funded by the...