About InTheWilderness
I am in many ways an average middle-aged American male. Being born in America and
especially the south, I have since my youth, had the niggling suspicion that
all was not as it seemed to be here in the Land of the 'Free' and the home of
Christian fundamentalism. In the attempt to make some sense of what I have
come to realize is mostly nonsense I have done alot of reading. I started off
with Lau Tzu, Jane Roberts, Carlos Castaneda and alot of other writers and
thinkers. I ,(thankfully), was never satisfied with any one 'wisdom source'. I
adopted the philosophy of one of my friends in college who used to say "If
I read enough fools eventually I may be able to distill some truth". (not that
those mentioned above are foolish by any stretch). I was lucky enough to
stumble on the Signs Page shortly after 911 and needless to say the info.
therein provided many missing pieces to the puzzle of my life and the world.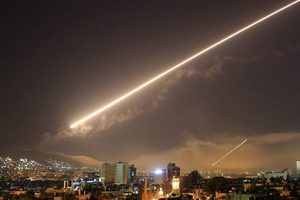 Syrian air defense systems protecting Damascus - the oldest continuously-inhabited city on Earth - from Western airstrikes, 14 April 2018
In the Truth there is no news, and in the News there is no truth
- Popular Russian saying under Soviet Communism
Recent Comments
Handshakes are all-important in France. Two guys show up for work next to each other, they shake hands. Lunch time, they shake hands again before...
---
" But as he reached his peak in 2015, Mancini suddenly began to suffer delusions. He imagined the government was spying on him, that members of...
---
Hey MI5, if you have some decent folks left.. Last chance! Throw out the psychopaths or go down with them!
---
Can there be a circle jerk with only two ? ?
---
WTF these kind of protests achieve anyway ? Oh wow, thank you for showing me the message, never thought about it this way. Gonna change my...