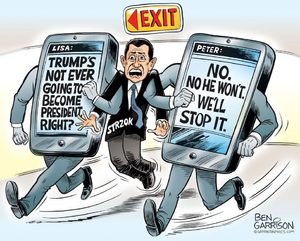 Strzok has left the building
What is truth anyway? The truth is the essence of something, its natural state, something as it really is. It is really a quest for love, because to truly love something we must know it for what it really is. Perhaps we can sense in an unconscious way that there is a deeper truth to everything and everyone, and we are led to search for the truth about it, so that we can truly love it for what it really is.
- Joe Quinn
Recent Comments
why didn't they show one
---
When I think that in centuries past European Jewish people were accused (falsely) that babies(Christian?) were used in horrible Jewish blood...
---
Sue them into poverty with the law...in a southern state or something.
---
This is not a study, it's a fantasy conjecture.
---
Sadly, it was not India alone. It was the world. And for those who believe it ended, I suggest you begin looking at the media. It is easier to...