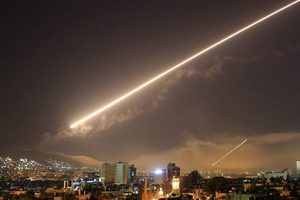 Syrian air defense systems protecting Damascus - the oldest continuously-inhabited city on Earth - from Western airstrikes, 14 April 2018
All truths are easy to understand once they are discovered; the point is to discover them.
- Galileo Galilei
Recent Comments
Obstruction of justice is sufficient evidence to suggest that HMG has something to hide.
---
Now that's a 'friend' we all need ... Lend 4 billion dollars please? Thanks, dude!
---
The reporter might have walked passed a diesel Volkswagen with the engine running... :P
---
no public act of meaningful opposition to Israeli policy will be tolerated Just take a moment to mull that over
---
You don't want to deal with the radical Muslims out of political correctness or out of a misguided sense of social acceptance of for any other...