About rskmmxiv
Born Pocatello, ID
Raised Kelso, WA
Resided/Worked Portland OR, Tucson AZ and SLC UT
Began collecting disability in 1990 and resided Pocatello ID, Sioux Falls / Mitchell SD, Fullerton (near Grand Island / Lincoln) NE and Albuquerque / Hobbs / Tucumcari / Las Vegas NM, Kingsport/Johnson City TN, Mc Calla AL, and back to Kelso (present)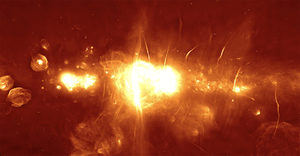 Galactic Center: South Africa's MeerKAT Radio Telescope captured this panorama of the center of the Milky Way. Area approx. 1,000 light-years by 500 light-years
Who controls the past controls the future. Who controls the present controls the past.
- George Orwell
Recent Comments
Thanks Sott, great piece! How do i type Öræfajökull? :(
---
Here is where they bring on the Robots.............
---
A housing "typo" was a business building mansions before "economics" destroyed things.
---
Some people are happy working like this. I used to work over 90 hours a week building a housing and surveying land. It is a reality if you become...
---
It grows in the ground. I appreciate work made to flourish except the bs.