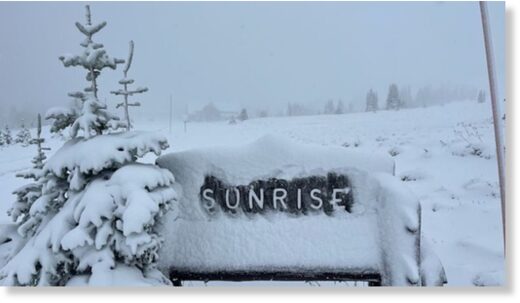 Although residents of western Washington bid farewell to summer, it seems like it won't be long before it's possible to frolic in the snow.
Mount Rainier National Park (MRNP) has plenty of snow, according to a
National Park Service photo on Facebook.
The photo was posted as a comment on a previously posted report of snow falling at the Sunrise Visitor Center Sept. 20.
The Washington State Department of Traffic (WSDOT) posted on X pictures of snow covering mountain highways.
"These winter wonderland pictures are from SR 410 near the summit of Cayuse Pass," WSDOT said in the post.
Cayuse Pass is in the northeast part of MRNP.
While snow may be falling in the park, it may still take some time to reach other areas of the state. Cayuse Pass sits at 4,765 feet above sea level.
Local ski areas have not yet announced start dates for the upcoming ski season. Crystal Mountain said on its website that the projected opening date is Nov. 22, although webcams show snow at higher elevations at the resort.
The Summit at Snoqualmie is ending its mountain biking runs this weekend in preparation for the winter, but snow at the pass may still be a few weeks away.
The resort closed bike trails Thursday "due to heavy rainfall and the resulting trail conditions." The ski area's website described the rain as "pretty relentless."
Farther north, Stevens Pass said it expects to begin the winter season Dec. 1, as the weather report for Thursday lists rain.
White Pass and Mount Baker ski areas have also not announced when the ski season will officially begin.