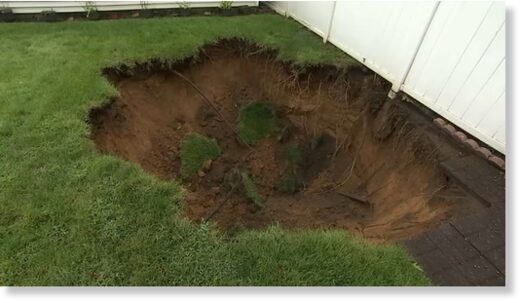 A large sinkhole is creating a mess in a Long Island backyard, and those who live at the home said it sprung up out of nowhere — leading them to question what caused it to form.
Tiffany McFadzean couldn't believe her eyes when she looked out into the backyard of her West Hempstead home Tuesday morning.
"We saw this big huge hole it caught us off guard," she said.
The sinkhole measures about six feet deep and 10 feet across, and appeared suddenly with zero warning.
"We've never noticed anything, no water pooling there or anything," said McFadzean. "There have never been any signs of anything going on underneath."
The family only moved to the home two years ago, but based on the amount of dirt that has washed away, it appeared that the area had been a problem for some time.
The town of Hempstead told the homeowner it could have been caused by an abandoned cesspool. McFadzean said she was just happy she nor her mother were outside at the time.