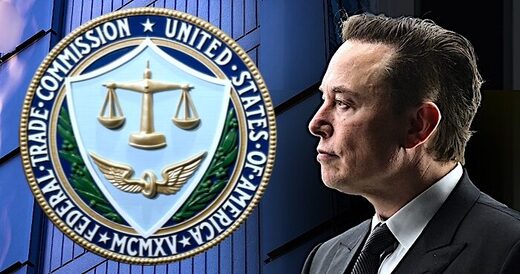 The Biden administration is being sued by a conservative legal group over its failure to turn over records in connection to its investigation into Elon Musk's X, formerly known as Twitter, according to a complaint.
America First Legal, which is led by ex-Trump administration officials, sent a Freedom of Information Act request in March to the
Federal Trade Commission
to obtain a trove of documents on the Twitter inquiry, which was reopened in late 2022 and pertains to its privacy and data security practices. But because the top regulator denied the organization's records case appeal in mid-September,
America First Legal
filed
a lawsuit on Thursday against the FTC for purportedly withholding information in violation of federal law.
Gene Hamilton,
vice president and general counsel for America First Legal, told the Washington Examiner:
"Our woke, weaponized federal government will stop at nothing to harass and attempt to intimidate its perceived opponents. The American people have had enough. What they have done in the dark will be brought to the light."
The lawsuit is the latest escalation of attempts by conservatives to take aim at the FTC over its investigation, which Republicans on the
House Judiciary Committee's Weaponization of the Federal Government Select Subcommittee
in a March
report
dubbed a "harassment campaign" and "agency overreach." The GOP-led panel released FTC letter excerpts to Twitter showing
the regulator asked it to "identify all journalists" granted access to company records, referring to the "Twitter Files," documents released by Musk on Twitter's contact with the U.S. government under ex-CEO Jack Dorsey.
In April, Judiciary Committee Chairman Jim Jordan (R-OH)
subpoenaed
FTC Chairwoman Lina Khan
for documents on the agency's Twitter inquiry. Khan later appeared in July before Congress and was pressed by Jordan over her alleged "obsession" with Musk.
Khan
testified
that Twitter "has a history of lax security and privacy policies," noting that "the FTC's work on Twitter goes back a decade."
The Justice Department in a recent court filing released excerpts of depositions with ex-Twitter executives on alleged ways Musk flouted a 2022 FTC order on Twitter's security and privacy practices. The government asked a judge to shoot down X's request to provide Musk immunity from testifying — claiming he "exercised granular control of X Corp., at times directing employees in a manner that may have jeopardized data privacy and security."
Through the lawsuit,
America First Legal seeks to unearth records on the FTC reopening its docket on Twitter
in the investigation. Over a decade ago, the FTC and Twitter
entered
into a settlement agreement after it was found the company skirted federal law by not safeguarding the personal information of customers
.
The FTC filed a complaint in federal court in California in May 2022 alleging Twitter ran afoul of a 2011 consent order, while the court entered a stipulated order permitting the regulator to reopen the docket.
The legal group, whose president is ex-Trump adviser Stephen Miller, is also asking for
records from the FTC on its move to demand information on "Twitter Files" journalists, including Matt Taibbi.
The IRS, which under Biden has come under heightened scrutiny from the GOP over its alleged politicization,
notably opened an examination into the independent journalist's 2018 tax return in late 2022 after Taibbi released sensitive communications on Twitter's suppression in 2020 of the Hunter Biden
laptop
story.
Taibbi later received an expected visit at his home
from an IRS agent on March 9, 2023, the same day he testified before the weaponization subcommittee.
Moreover, America First Legal is asking for communications between various FTC officials, including attorneys James Kohm and Reenah Kim, from late April 2022 to February 2023. Kohm, who oversees FTC inquiries into privacy settlements,
reportedly
participated in a call in February with Musk and Christine Wilson, the regulator's lone Republican commissioner, after Khan in late January declined a call with Musk he requested.
The records lawsuit, filed in the U.S. District Court for the District of Columbia, was submitted by ex-Trump administration lawyers Juli Z. Haller and Michael Ding.
The FTC declined to comment.