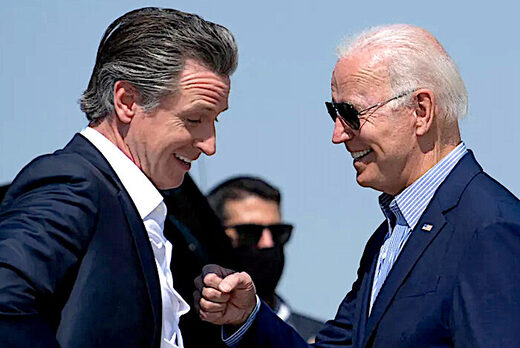 President Joe Biden's reelection campaign scheduled Gov. Gavin Newsom (D-CA) to attend Wednesday's Republican primary debate as a surrogate.
Biden's decision to send Newsom is noteworthy because some political experts believe Newsom will replace Joe Biden atop the Democrat ticket. Many Democrats fear that Joe Biden, 80, is too old to serve four more years.
Newsom will
attend
the debate in Simi Valley, California, to spin the Republican candidates' "extreme" rhetoric and "out of touch views." Along with Newsom, Joe Biden also will send
Biden-Harris campaign manager Julie Chavez Rodriguez and Democrat National Committee Chair Jamie Harrison.
Biden campaign advisers
said
.:
"The campaign response builds off the strong and effective plan from the first debate with a clear north star: pushback on Republicans' lies and highlight their extremism at every turn. Our response will ensure we hold every Republican and their extreme positions accountable.

"You can expect the Biden campaign and our allies to point out the stark contrast between Bidenomics and the extreme MAGAnomics policies we'll hear on the debate stage."

Comment: Good luck with that. The Left can't even hold themselves accountable.


Fox Business Network will host the debate and reportedly focus on economic issues, including Republican solutions to repair the challenges inflicted by Joe Biden's policies.
Former President Donald Trump will skip the debate, as polling shows he dominates the primary field.
Trump will instead travel to the Motor City to join striking union autoworkers
as they call for better contract terms from the Big Three automakers.
Republican strategist James Hartman
told
CNN:
"Former President Trump continues to hold his position very firmly as the front-runner on the GOP side. I don't think that rules out potential surges from a select few of the remaining candidates."
Republican strategist Cam Savage believes Trump's lead might be insurmountable
as no primary candidate has consolidated support:
"The one thing that's yet to be determined, and maybe it doesn't matter at all, is if there's consolidation of support, can that give strength and momentum to one of these candidates to make a real run at Trump. And if there's not that consolidation, then all you're doing is waiting on pins and needles to see if someone can beat him by three points in Iowa in January. There's five or six candidates. Nobody's going to break away from it. If someone's going to beat him, they'll nip him."