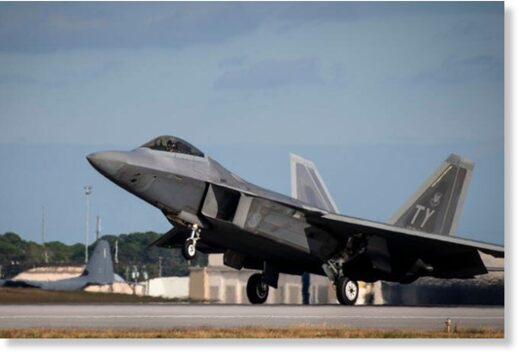 The Department of Defense (DoD) has officially confirmed to Liberation Times that the United States Air Force (USAF) has submitted a report about an incident involving an unknown object that occurred earlier this year to its Unidentified Anomalous Phenomena (UAP) office, known as the All-domain Anomaly Resolution Office (AARO).
The incident centred around a USAF pilot stationed at Florida's Eglin Air Force Base,
whose sensor systems suddenly malfunctioned as his aircraft approached a UAP
over the Gulf of Mexico, sparked concern.
Florida representative Matt Gaetz, who had been alerted and briefed on the incident, addressed it during the Congressional UAP Hearing in July 2023:
"One of the pilots goes to check out that diamond formation [viewed on radar] and sees a large floating, what I can only describe as an orb, again, like I said, not have any human capability that I'm aware of."
Representative Gaetz added:
"And when he approached, he said that his radar went down. He said that his FLIR (infrared camera) system malfunctioned and that he had to manually take this image from one of the lenses."
Commenting to Liberation Times, DoD spokesperson, Susan Gough confirmed that Gaetz had been briefed and that the AARO had received a report from Eglin Air Force Base.
Furthermore,
the AARO will look to publish a public report on the incident, once cleared
.
Gough commented:
"Rep. Matt Gaetz received a classified briefing while visiting Eglin Air Force Base earlier this year, but we cannot comment on the content of that briefing.

"I can confirm that AARO is reviewing a report from Eglin AFB. AARO has prioritized its analysis of that case and intends to publish the findings on its website once the information is cleared for public release. I have nothing further for you."
In contrast to Representative Gaetz, a member of the House Armed Services Committee, representatives Tim Burchett and Anna Paulina Luna
were not granted access
to a briefing by the USAF and the DoD. That action sparked an argument between USAF personnel and the representatives.
The reason cited by the DoD was that representatives Luna and Burchett were
not members of either the Intelligence or Armed Services Committee
.
And reacting to the DoD's intention of publishing its analysis of the UAP incident, Representative Luna told Liberation Times:
"Hopefully they actually follow through, but I don't have a lot of faith after what happened to us at Eglin. DoD would do well to not block the American people out from transparency like they did to us earlier this year."
Previously, the USAF has come under scrutiny for its alleged lack of transparency regarding UAP.
In November 2022, the DoD
confirmed
to Liberation Times that
the USAF did not extend a pilot program in view of normalising future collection
, reporting and analysis of UAP.
Liberation Times has also
previously reported
about
attempts by the USAF to crack down on officers attempting to cooperate with the former UAP Task Force
, and that the Air Force was actually willing to participate on the topic of UAP before executing a "180-degree turn."
The acknowledgement that Eglin Air Force Base has apparently reported the incident to the AARO may suggest the USAF is ready to be more cooperative on the UAP topic.
However, it would also be accurate to suggest that the USAF would face significant scrutiny from both representatives and the Deputy Secretary of Defense Kathleen Hicks (who now oversees the AARO) if it had chosen not to report the incident.