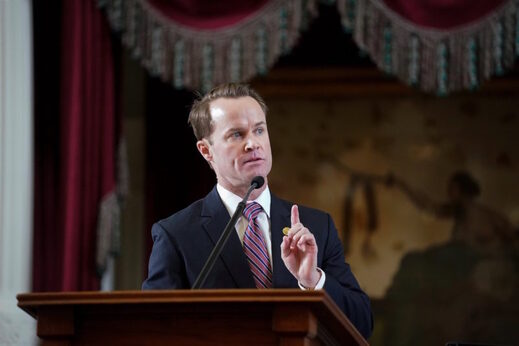 The full acquittal of Ken Paxton by the Texas Senate is seen as a repudiation of House Speaker Phelan and the Democrats' control of the lower chamber.
Following the full acquittal of Attorney General Ken Paxton by the Texas Senate on Saturday, members of the Texas House are calling for the removal of their chamber's leader. They are being joined in that effort by Donald Trump.
Paxton faced 20 articles of impeachment. Those were rushed before the Texas House in late May following a secret investigation by the General Investigating Committee.
The articles followed the same political charges made against Paxton by challengers Eva Guzman and George P. Bush in the 2022 primary election. The political lobby group Texans for Lawsuit Reform fueled those charges with more than $3 million in campaign cash.
House members have said the rushed vote was described on the floor as a "loyalty vote" to Speaker
Dade Phelan
.
In the end, 61 Democrats and 60 Republicans - including Phelan - voted for the impeachment. There were 23 House Republicans who opposed impeachment. One Democrat and one Republican both abstained from voting.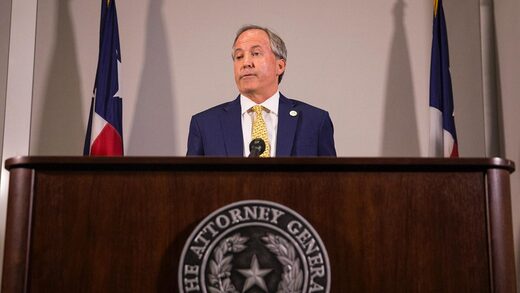 In the recent documentary
The Texas Heist
, political observers and GOP operatives named a dozen Republicans seen as instrumental in both impeaching Paxton and helping Democrats kill conservative priorities. Those Republican state representatives included:
Dustin Burrows
,
Charlie Geren
,
Craig Goldman
,
Justin Holland
,
Todd Hunter
,
Jacey Jetton
,
Ken King
,
Stephanie Klick
,
Jeff Leach
,
Andrew Murr
,
Glenn Rogers
, and
Lynn Stucky
.
After senators acquitted Paxton, Lt. Gov. Dan Patrick offered a harsh
criticism
of the House's "flawed" process. He took special aim at Speaker Phelan.
"The Speaker and his team rammed through the first impeachment of a statewide-elected official in Texas in over 100 years while paying no attention to the precedent,"
said Patrick.
Lt. Gov. Patrick went on to note that House members had been warned by State Rep.
John Smithee
(R-Amarillo) ahead of the rushed vote.
"Rep. Smithee told his fellow members the House process was indefensible and that the House did not follow the rules of evidence and their case was based on triple hearsay that would never be allowed in court."
For his part, Phelan described Patrick's speech as a "tirade" against the House. In a statement issued by his office, Phelan doubled down on the very claims rejected by the majority of senators.
"The inescapable conclusion is that today's outcome appears to have been orchestrated from the start, cheating the people of Texas of justice," wrote Phelan.
The political fallout is already growing from inside the House, where Democrats have long been allowed to select a speaker acceptable to their party. In turn, Republican speakers Joe Straus, Dennis Bonnen, and now Phelan have given Democrats control of key legislative committees.
State Rep.
Tony Tinderholt
(R-Arlington) told
Texas Scorecard
that Phelan needs to leave office - either voluntarily or by a vote of the chamber.
"I think he should immediately resign, or we should vacate the chair as soon as possible," said Tinderholt.
"He said in his statement that he thanks the 'brave' 123 members of the house who pushed for the impeachment. He failed to mention that there were more Democrats than Republicans in that number. That made it a speaker and Democrat-led witch hunt against the most effective attorney general in the country. I also read his disdain for those of us who didn't do as he wanted. He has destroyed the legitimacy and integrity of the Texas House and the history of it, along with those who serve and have served within its walls for the people of Texas."
State Rep.
Brian Harrison
(R-Midlothian)
blasted Phelan
on the social media platform X. "Speaker Phelan must step down now for empowering this Democrat effort while killing Republican priorities. I am also demanding the State Auditor investigate how much tax money this wasted."
President Donald Trump, who has been strongly supportive of Paxton throughout the ordeal, is similarly calling for Phelan's removal.
"It is time that Speaker Dade Phelan resign after pushing this Disgraceful Sham!" Trump posted to his own platform, Truth Social.
State Rep.
Matt Schaefer
(R-Tyler) was disappointed in the tone of Phelan's statement after the verdict.
"The only response from Speaker Phelan and the Texas House should be humility," Schaefer said in a statement to Texas Scorecard.
"The impeachment process was a debacle. Had we known what would come to light during the Senate trial, the vote in the House would have been very different. Process matters.

In fact, the impeachment should have never happened.

It was a complete leadership failure. Meanwhile, the Texas border is on fire. For all the talk of courage to do the right thing, the House sure has a lot of challenges that haven't been addressed."
State Rep.
Steve Toth
(R-The Woodlands) was likewise disappointed by the House leadership's actions. He
wrote
, "The duo of Phelan and Murr asked members to blindly walk the plank." He added that Murr and Phelan had claimed there was evidence to "put Paxton away."
"They lied and now these House Members will face the scorn of voters in March,"
wrote
Toth.
Political analyst
Luke Macias
told Texas Scorecard that Toth's assessment is correct.
"We are on track for having a record number of challengers against incumbent Republicans in the Texas House," said Macias. Conservatives are rallying around ousting the status quo. Democrat chairs have to go, and the Texas House has to wake up. We are willing to accept many of these members back if they will just admit they were wrong."
Filing for the 2024
primary election
begins on Saturday, November 11, 2023, and closes at 6 p.m. on Monday, December 11, 2023.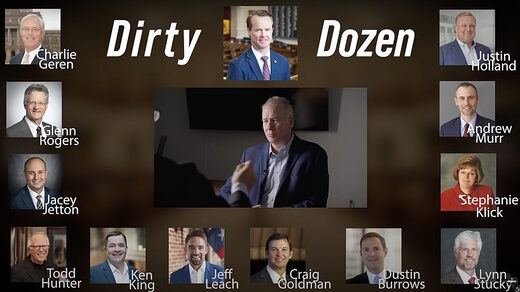 Michael Quinn Sullivan is the publisher of Texas Scorecard. He is a native Texan, a graduate of Texas A&M, and an Eagle Scout. Previously, he has worked as a newspaper reporter, magazine contributor, Capitol Hill staffer, and think tank vice president. Michael and his wife have three adult children, a son-in-law, and a dog. Michael is the author of two books, including Reflections on Life and Liberty.