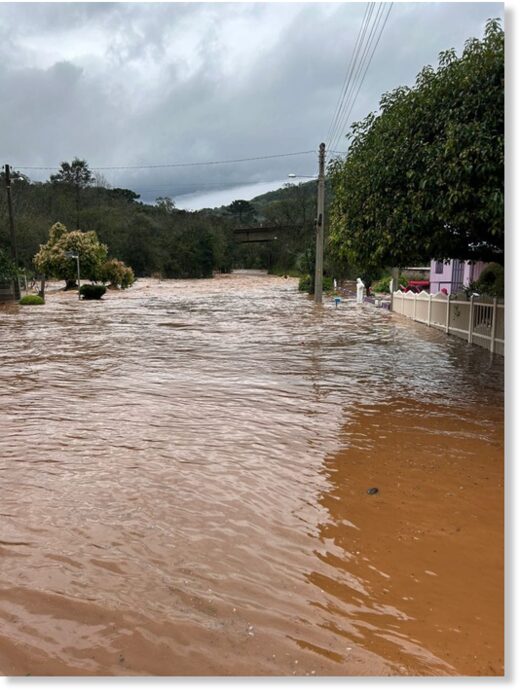 Severe weather over the last few days has taken its toll on areas of Rio Grande do Sul state in southern Brazil where authorities report hundreds of people have been evacuated and at least 4 people have lost their lives.
Strong winds, hail and heavy rain have affected the state over the last few days. State authorities reported multiple locations recorded more than 200 mm of rain in a 72-hour period to 04 September, including Passo Fundo (291.6 mm), Água Santa (221.6 mm), Ijuí (217.6 mm), Entre-Ijuís (207.4 mm) and Vacaria (202.2 mm).
Severe flooding has impacted communities in the municipalities of Santo Expedito do Sul, Lajeado do Bugre, Nova Bassano, São Jorge, Bento Gonçalves, Caxias do Sul and Ibiraiaras, among others. Further flooding is expected as river levels are high and in some cases still rising. State Civil Defence issued flood warnings for communities living close to the Antas, Taquari and Caí rivers.
State authorities confirmed that four people have lost their lives as a result of the severe weather. One person died in Mato Castelhano after attempting to cross the Piraçuce river. A second fatality occurred in Passo Fundo, where a man suffered an electric shock. Two people died after their car was dragged by flood water when crossing a bridge in Ibiraiaras.
Over 200 homes have been damaged by either strong winds, hail or flooding. At one point over 350 people had evacuated their homes. Civil Defence said this figure had started to fall as of late 04 September.
Roads have been blocked in at least 10 locations across the state.
The Nova Bassano municipality is among the areas hardest hit by flooding following the overflow of the Sabiá River. Around 35 homes have been damaged and 90 people displaced. Around 30 homes were damaged by flooding in São Jorge municipality, where 40 people were displaced.