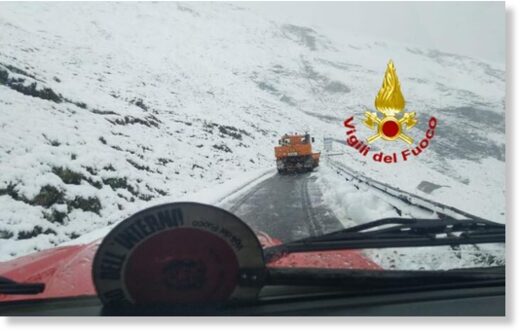 A town in the Italian Alps woke up to unusual summer snowfall on Monday, as storms, flooding, and even tornadoes hit the north of the country.
Snow has come exceptionally early to one part of the Alps this year after
temperatures in the area reportedly plunged by around 20 degrees within just 48 hours.
A cold air front moving in from northern Europe brought the heatwave to an abrupt end in northern Italy over the weekend, and authorities issued weather warnings as the sudden change in temperature brought with it heavy rainfall, storms, flash floods, and even mini tornadoes.
In the Alpine resort town of Sestriere, residents and holidaymakers woke up to several centimetres of snow on Monday morning - just days after the area had recorded normal summer temperatures.
Residents said this was the first time it had snowed there in summer for ten years.
"I have never seen snow in August in Sestriere," a shop worker named Andrea
told newspaper Il Corriere.
"There is a bit of disappointment actually... it means that the summer is over."
Other residents reportedly said that they considered the snow a "good omen" for the upcoming winter season, after Italy's ski resorts suffered several consecutive years of financial losses due to pandemic closures and a lack of snow.
More snow is likely to fall in the area in the coming days, according to forecasts.
Firefighters meanwhile reported rescuing several people on the Colle dell'Agnello Alpine pass between Italy and France on Monday after their cars became stranded in heavy snow.
On Monday morning, a huge rockslide in the nearby Maurienne valley of the French Alps left several roads blocked and train services between France and Italy halted until at least Thursday.
Emergency services were on alert in much of northern Italy early this week following warnings that unstable weather conditions could lead to heavy rain and potential flooding in some areas.