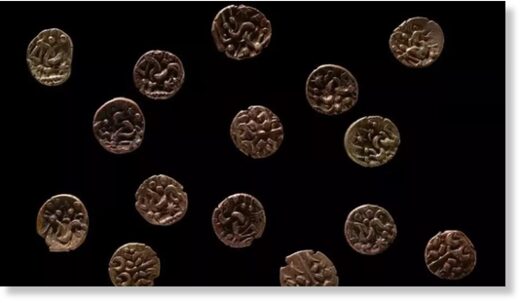 Metal detectorists have discovered a treasure trove of gold coins strewn across an open field in Anglesey, an island in Wales, marking the first time that Iron Age currency has been found in the country.
The 15 well-preserved coins, which were minted sometime between 60 B.C. and 20 B.C., are known as staters and were common currency in ancient Greece. The highly stylized coins were derived from Macedonian gold coins of Philip II, who served as the king of the ancient kingdom of Macedonia, and feature the bust of the Greek god Apollo wearing a wreath on the coins' heads side and a two-horse chariot and rider on the coins' tails side, according to a
statement
.
They were likely used by the Corieltavi tribe, who inhabited the area during the Iron Age.
After gradually uncovering the coins between July 2021 and March 2022, the metal detectorists notified the Portable Antiquities Scheme, an organization managed by the British Museum and Museum Wales. This week, authorities declared the find a "treasure."
"Finding a gold stater was always number one on my wish list," Lloyd Roberts, one of the metal detectorists, said in the statement. "We were delighted to discover that this was the first hoard of Iron Age gold coins ever found in Wales."
Although experts at the Gwynedd Archaeological Trust, an organization that provides archaeology services for Wales, weren't sure how the coins wound up in the field, they do know that they were struck at three different mints in what is now Lincolnshire, a county in England.
Finding coins from this time period in Wales is incredibly rare because Iron Age tribes in the region normally didn't use outside currency.
Based on previous research indicating that the island was an "important religious center" from the first century B.C. to the first century A.D., experts think the coins may have been used as offerings to the gods, according to the statement.
"This hoard is a fantastic example of the rich archaeological landscape that exists in [northwestern] Wales," officials wrote in the statement. "While the immediate vicinity of the find did not yield any clues as to the find's origin, the findspot lies in an area of known prehistoric and early Roman activity and helps increase our understanding of this region."
The coin collection will be on display at Oriel Môn, a museum and gallery in Anglesey.
Jennifer Nalewicki
is a Salt Lake City-based journalist whose work has been featured in The New York Times, Smithsonian Magazine, Scientific American, Popular Mechanics and more. She covers several science topics from planet Earth to paleontology and archaeology to health and culture. Prior to freelancing, Jennifer held an Editor role at Time Inc. Jennifer has a bachelor's degree in Journalism from The University of Texas at Austin.