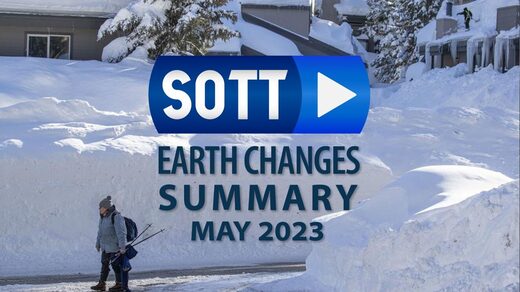 **
Sorry the Earth Changes Summary Video for May is so late - all Sott.net chroniclers were attending a wedding!
**
If you thought the unseasonable snow and cold temperatures would end in April, you were wrong. Records continued to be broken in May in both hemispheres, and many countries suffered from heavy floods due to tons of melting snow.
Some snowy events to highlight:
Michigan - 26 inches of record snow.
West Virginia - 20 inches of record snow.
Sierra Nevada, California - 15 inches in 48 hours. (State snowpack over 300% of average)
Teller County, Colorado - Heavy unseasonable snow.
Spain - Unseasonable snow after an early heatwave.
Iwate Prefecture, Japan - Record snow for May.
New South Wales and Australian Capital Territory - Record coldest May temperatures.
And flooding events:
Alaska - Catastrophic flooding after ice jams and melting snow
Emilia Romagna, Italy - Heavy floods take the life of 14.
Southwestern Germany - Heavy floods cause closure of rail lines.
Lapland, Finland - Worst flooding in 55 years
Yemen - Heavy floods leave 24 dead
Somalia - Devastating floods trigger the evacuation of 200,000
South Kivu, Democratic Republic of Congo - Catastrophic floods leave 400 dead.
Jiangxi, China - 14,000 evacuated after heavy floods
Remember, don't listen to the warm-mongers when we start getting hotter than normal temperatures,
it's all caused by El Niño
. And don't forget to look up and pay attention to the show provided by the increasing number of meteor fireballs... and don't let any "authority" convince you that they are Martian spacecrafts crashing into Earth!
All that, and more, in this month's SOTT Earth Changes Summary:
Or watch on
Odysee.
To understand what's going on, check out our book explaining how all these events are part of a natural climate shift, and why it is taking place now:
Earth Changes and the Human-Cosmic Connection
Check out previous installments in this series - now translated into multiple languages - and more videos from SOTT Media
here
,
here
, or
here
.