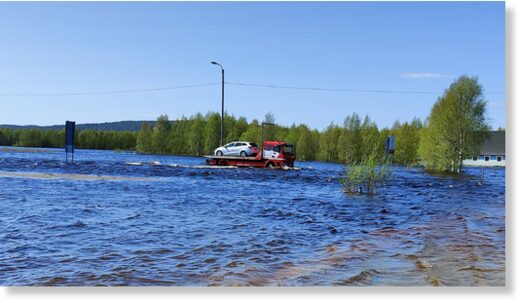 Numerous roads in and around the towns of Tornio and Ylitornio were still cut off by flood waters on Monday morning, and the water level is expected to remain at peak readings for another couple of days.
While flood waters have begun receding in the upper reaches of the Tornio River valley, more southerly areas continue to be inundated by waters that rose over the weekend.
According to the Finnish Environment Institute, the flooding in the Tornio and Muonio river valleys in the west of Finnish Lapland is the most severe in 55 years.
The flood water level in Tornio was reported to be at the same reading during the early morning hours of Monday. Elsewhere in the Tornio River valley, the flood peak was passed on Sunday.
However, water levels are still high in the region. According to Fintraffic, there are currently a dozen roads blocked in the region. Flood waters have cut off highway VT 21 at Ylitornio and traffic is being directed to a detour.
Besides flooded roads, fields and basements, the Lapland Rescue Services says that it has had no reports of major damage or loss of life.