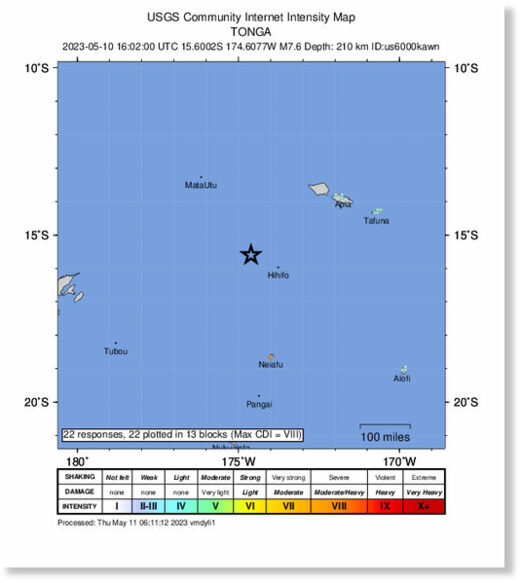 An earthquake of magnitude 7.4 struck off Tonga on Thursday, United States Geological Survey said.
The quake was at a depth of 212 km (132 miles) and the epicenter was at a distance of 73km northwest of Hihifo, Tonga, the USGS reported.
Hihifo is the main village on the island of Niuatoputapu, north of Tonga's main group of islands.
The U.S. Tsunami Warning System said there was no tsunami warning.
Angie Pula Letuligasenoa was in her home in Iliili, near Pago Pago International Airport, when the 'rolling' earthquake struck.
She said it felt like the shaking lasted up to 20 to 30 seconds.
'A couple of things fell off my shelf, but the windows were shaking, and that's the scary thing,' she told Radio New Zealand.
'So I got up, said a quick prayer.'
The quake was followed by a 5.1 magnitude aftershock at 4:30am NZT, with the effects felt in Samoa and the islands of Wallis and Futuna.
Last November, an island off the coast of Tonga was struck by a 7.3 magnitude earthquake.
The earthquake, with a depth of 15.4 miles, struck in the sea at about 128.6 miles east of the southeast of Neiafu, a town in the northeast of the Pacific archipelago nation, shortly before midnight local time.
Locals living in the coastal towns of Tonga quickly rushed to evacuate and drove to reach the higher ground following an initial tsunami warning, that was later lifted.
Video shows long queues of cars forming in the Tongan capital of Nuku'alofa, as locals tried to move further inland and away from any impending tsunami waves.
Months earlier, an undersea volcano erupted in Tonga on January 14, killing three people, blanketing its main island with a thick layer of volcanic ash and shooting millions of tons of water vapor high up into the atmosphere.
The volcano, which is mostly submerged underwater with only the peak visible above the waves, blew its top late in the evening - an explosion that was visible from space and heard in New Zealand, some 1,400 miles away.
The blast completely destroyed the top of the volcano and triggered a 50ft tsunami that smashed into Tonga's islands, causing widespread destruction.
Mango and Fonoifua islands, in the Haʻapai chain, were two of the worst hit - with almost all buildings swept away and survivors left living under tarpaulins.