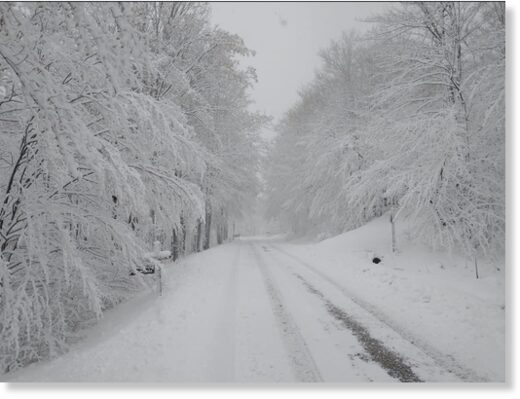 The National Weather Service in Pittsburgh reports the Tucker County town of Davis officially received 20.3 inches of snow during the first three days of May. The accumulation is an all time record for anywhere in West Virginia for snowfall in the month of May.
"We had started to make the transition. The trees had budded, flowers were coming up, and people were cutting their grass last week. All of the traditional signs of spring were happening and all of a sudden we had three days of snow," said Davis Mayor Alan Tomson.
It wasn't just three days of snow. It was three days of driving, pounding, wet snow which quickly started to pile up each night.
"All the shovels were put away, the plows were set aside and all of that had to be taken back out," he added.
The sudden and extreme change was a shock to the system. Tomson said typically snowfall in Tucker County is a welcome event. Normally it would mean tourists would be flocking into the region and commerce would be thriving. But he said, this snow didn't do anybody any favors.
"The tourists and guests come to our area in the wintertime and they're looking for snow sports like skiing, snowboarding and other activities, but those activities are shut down," he explained.
Tucker County's two large ski resorts Timberline Mountain and Canaan Valley were both closed for the season. Tomson said the Whitegrass Cross Country Ski Center was able to open and for a couple of days was busy.
Still, according to Tomson, it wasn't the windfall a usual 20 inches of snow would bring to the region.
"The visitors that come to our area, most of them are from Northern Virginia. They're already out playing golf, working in their gardens, and wearing short sleeved shirts. They're not thinking of reengaging in winter sports, so we didn't get a preponderance of visitors like we would in normal winter time," said the Mayor.