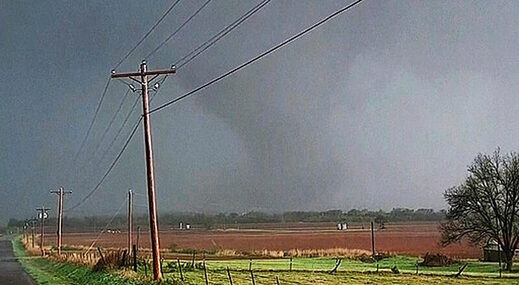 Strong storms with tornadoes that plowed across the central U.S. killed at least three people in Oklahoma and left thousands without power Thursday as forecasters warned of potentially more severe weather to come.
Authorities were still unsure of the full scale of injuries and destruction in Oklahoma, where storms flattened homes and turned over 18-wheelers. Employees of a pizza restaurant said they took shelter in the walk-in freezer, and when they emerged, portions of the roof and shattered windows littered the parking lot.
"There are definitely dozens of various injuries, from minor all the way up to fatalities," said Deputy Sheriff Scott Gibbons of McClain County, south of Oklahoma City.
An AccuWeather Radar loop shows a damaging tornado moving through Cole, Oklahoma, Wednesday evening:.
Deadly storms
this spring
have killed dozens of people across a wide swath of country. More bad weather, and a chance of more tornadoes, were possible Thursday night from Texas to Wisconsin, according to the National Weather Service's Storm Prediction Center.
Two of the deaths in Oklahoma were in the small town of Cole. A third person who was injured by the tornado has also died, authorities said, but it was not clear where the person was injured. Officials said the twister also devastated Shawnee.
The threat started Wednesday night when the the National Weather Service began issuing tornado and severe thunderstorm warnings in Oklahoma, Kansas and Iowa. Forecasters warned people to find shelter.
"My priority was keeping everybody safe so I hustled everybody into the walk-in," said Bekah Inman, general manager of a Papa John's Pizza in Shawnee, told Oklahoma television station KOCO. "There was a lot commotion, people were starting to get a little frantic."
Oklahoma Gov. Kevin Stitt visited Shawnee, where officials Thursday focused on damage assessment after spending the night looking for victims and survivors of the storm. The number of injuries and homes and buildings damaged was not known, said Benny Fulkerson of the Department of Emergency Management.
The storm rippled down power lines, toppled trees and left a trail of badly damaged homes and buildings. Oklahoma Baptist University in Shawnee and an airport were damaged before the tornado moved away and weakened.
At the peak of the severe weather, more than 23,000 customers were without electricity throughout Oklahoma, according to
PowerOutage.us.
KFOR-TV reported that residents south of Oklahoma City said they were trapped in their underground shelters. In Cole, two people emerged unhurt after riding out the storm in a manhole, the television station reported.
Forecasters warned that possible tornadoes in Texas could form later Thursday before the storm moves northward across Arkansas and into Missouri. Large hail and tornadoes were also possible in Missouri and across Illinois into Wisconsin, according to the prediction center.
A March 31 storm produced
tornadoes that killed at least 32
people from Arkansas to Delaware, and days later a
tornado left five dead
in Missouri. At least
26 died
in Mississippi and Alabama when tornadoes during a late March storm carved a path of destruction through the Deep South.
Via The Associated Press.