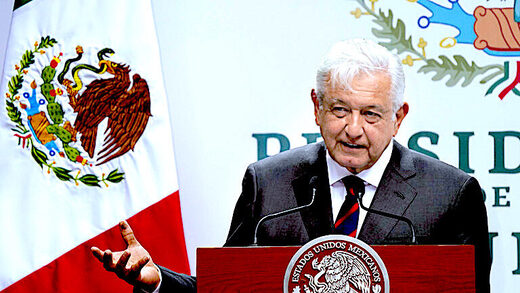 Mexican President Andres Manuel Lopez Obrador has bristled over his government being accused by the US State Department of human rights abuses, and dismissed his country's neighbors to the north as "liars."
Speaking at a
press briefing
on Tuesday in Oaxaca, Mexico, Lopez Obrador responded angrily to Monday's State Department report on human rights. US President Joe Biden's administration
claimed there were credible reports of unlawful killings by Mexican authorities, as well as forced disappearances, torture and otherwise inhumane treatment of civilians. The US also chided Mexico for corruption, rampant crime and low rates of offenses being prosecuted.
Asked by a reporter about the accusations, Lopez
Obrador said, "It's not true. They're liars." He added, "It's not worth getting angry about."
"
That's just how they are." The US believes "it's the government of the world."
Lopez Obrador
made his comments before a scheduled meeting with former US Secretary of State John Kerry, now Biden's climate envoy. Relations with Washington have soured in recent weeks amid a spate of kidnappings of US citizens in northern Mexico, including a case in which two people were killed by a group associated with a drug cartel.
The Mexican president has suggested that an "anti-Mexico" conservative element in the US government has inflamed tensions between the countries and used the fatal kidnapping incident to make attacks on his country's safety record.
"Mexico is safer than the United States," he told reporters
last week in response to the controversy.

Comment: That's probably not the case, however the US is sinking pretty fast.


State Department spokesman
Vedant Patel
responded to Lopez Obrador's criticism on Tuesday by defending the US allegations against Mexico's government. "The reported involvement of members of Mexican police, military and other government institutions in serious acts of corruption and unlawful arbitrary killings remain a serious challenge for Mexico, and that's why they were highlighted in our report."
US must respond to Nord Stream accusations - Mexican president
Mexican President Andres Manuel Lopez Obrador has
argued
that the US should respond to allegations that it sabotaged the Nord Stream pipelines.
"If we are talking about acts of violence, how is it that an award-winning journalist in the United States claims that the US government sabotaged the gas pipeline from Russia to Europe?" Lopez Obrador asked
during a press conference on Tuesday.
The Mexican president was referring to claims by Pulitzer Prize-winning journalist Seymour Hersh that the Biden administration blew up the Nord Stream pipelines linking Russia and Germany last year.
In addition, Lopez Obrador
pointed to failed American efforts to halt the opioid crisis plaguing the country, which caused over 71,000 deaths in 2022 alone from fentanyl-linked overdoses and drug poisonings
.
The Mexican leader went on to argue that
"lying" and "politicking" is in Washington's nature, and asserted that the US "do[es] not want to change, so they believe they are the government of the world, and they only see the speck in someone else's eye and not the beam in their own."
State Department deputy spokesperson Vedant Patel responded to Lopez Obrador's remarks by
insisting that the US has "never been ones to indicate that we are the government of the world
or some kind of edict like that."

Comment: A US representative actually said that.


Patel suggested that the Mexican police, military, and other government structures were responsible for serious acts of corruption and unlawful killings, which is why these issues were highlighted in the State Department report.