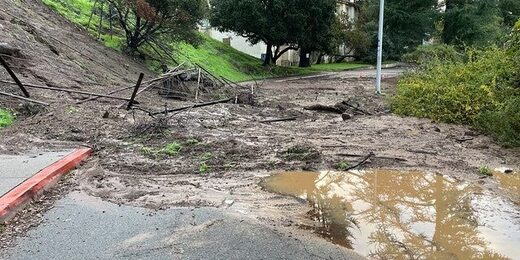 The mudslides come amid a series of major winter storms that have walloped California in recent week
A mudslide in a Berkeley Hills neighborhood in
Northern California
Monday morning forced around 10 homes to evacuate as nearby residents were warned to prepare to leave quickly if needed, fire officials said.
Berkeley police
said The Spiral, a short road off Wildcat Canyon Road, and Middlefield Road, north of the Crossways, were both closed.
A mudslide forcing a road closure at UC Berkeley. (UC Berkeley Police)
A mudslide has also closed Wildcat Canyon Road between Sunset and Park Hills roads. Authorities responded to the area around 7 a.m.
Berkeley Fire Battalion Chief Bill Kehoe said the ground was still moving and trees could be heard cracking from the side as of around 9 a.m.
No injuries have been reported so far. Around 20 residents that were affected by the evacuation orders were being assisted by the Red Cross.
Meanwhile, UC Berkeley Police warned nearby residents to avoid the area of Sports lane and the Clark Kerr Campus due to a mudslide.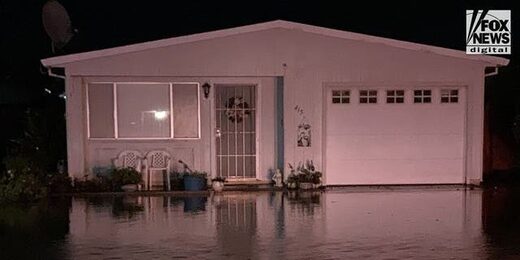 Fox News Digital has reached out to Berkeley's police and fire department seeking updates.
The mudslides come amid a series of
major winter storms
that have walloped California in recent weeks, cutting power to thousands, swamping roads, toppling trees, unleashing debris flows, and triggering landslides.
Monday's system was relatively weak compared with earlier storms but flooding and mudslide risks remained because the state was so saturated, forecasters said.
Bradford Betz is a Fox News Digital breaking reporter covering crime, political issues, and much more.