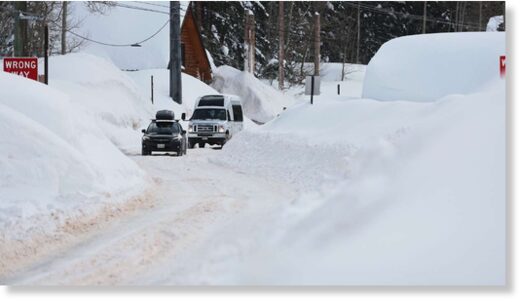 Sundance Resort received

28 inches

of additional snow, while Alta, Brighton and Snowbird resort areas also received near or

more than 2 feet of snow

from a storm system that arrived in the state Saturday and lingered into Sunday.
The storm ultimately produced robust snow accumulations across the state's mountain resorts. Eagle Point, Park City Mountain, Snowbasin and Solitude resorts all received more than a foot of snow from the storm, as well, which has recreation enthusiasts salivating. Utah Department of Transportation officials
tweeted
that parking lots of multiple Cottonwood Canyons ski resorts were full Monday morning, as skiers and snowboarders looked to take advantage of the fresh powder.
Some parts of the canyons now even boast the best snowfall levels in decades, too.
For example, one
National Weather Service
observer program site in the Alta area is now up to 314 inches of snow this season, marking its best snowfall total from Oct. 1 — the annual start of the water year — through Jan. 14 since 1984.
Meanwhile, the recent storm is also making water resources managers happy because of how water-heavy the recent storms have been.
Utah's mountain snowpack is now up to 13.9 inches of water, with 7.5 inches of that coming since Dec. 27, according to Natural Resources Conservation Service data accessed Monday morning. The current figure is 194% of normal for mid-January and 88% of the normal snowpack season with 78 days left in the typical collection period,
And there's more snow on the way.
New warnings and advisories
The next storm system will impact most parts of Utah; however, it's moving more south than any of the recent wintry storms, said KSL meteorologist Matt Johnson. That's why it will primarily impact central and southern Utah, as well as Arizona through Wednesday morning.
The National Weather Service issued a handful of new
winter storm warnings
and
winter weather advisories,
as a result. One of the warnings states that 1 to 2 feet of heavy snow are expected in the southern mountains, with heavier totals in the Pine Valley and Tushar mountain ranges, especially by Brian Head.
Many communities throughout southwest and south-central Utah are also listed within the warnings, including Beaver, Bryce Canyon, Cedar City, Circleville, Milford and Panguitch. The alert states 3 to 8 inches of snow or more are possible through early Wednesday, with higher totals likely in areas closer to Beaver and Cedar City.