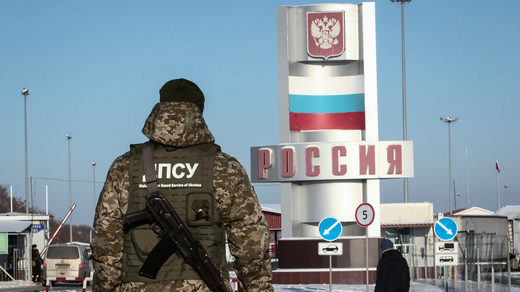 Kiev authorities have decided to turn away all Russian men aged 16 to 60. It's apparently designed to prevent Moscow from forming "private armies" on Ukrainian soil.
The move was announced by the county's president Petro Poroshenko in a
tweet
on Friday. Kiev has imposed a blanket ban on all the Russian males aged between 16 and 60, effectively allowing only women and children to visit the country -
although there have been reports that even they have been turned away at the border
. Some men might be eligible for an exception over some sort of "humanitarian" reasons.
The ban is supposed to prevent Russia from "forming 'private' armies, which are in fact representatives of the Russian armed force," as well as "to prevent Russians from carrying out those operations in Ukraine
which they've planned back in 2014
." The president did not elaborate what exactly Moscow had allegedly planned and why it had not managed to carry it out over the past four years.

Comment: The entire Kiev ruling class have lost their collective mind. Actually, they lost it back in 2014 and have never recovered. If anything, they've only gotten worse.


Moscow condemned the new hostile move by the Kiev authorities, yet already ruled out a mirror response to the measure.
"Regarding Ukraine, not the state itself, but the regime which currently runs the country, it's quite terrifying to talk about a mirror response. Because
an attempt to mirror what is happening in Kiev could lead to insanity, and on a state level - simply to a collapse
," Foreign Ministry spokeswoman Maria Zakharova told reporters.
The new restrictions come as a part of the so-called "partial" martial law, which the Ukrainian authorities imposed earlier this week for a one month period. On Thursday Kiev
barred all foreigners from entering Russia's region of Crimea through the land border with Ukraine
.
The martial law was imposed following the weekend incident in the Kerch Strait between Crimea and mainland Russia. Three Ukrainian military vessels - two gunboats and a tug - tried to sail through the strait without getting proper permission from Moscow. The rogue vessels were blocked by Russian border guard ships, rammed, shot at and eventually seized. Their crews - sailors and operatives of the Ukrainian Security Service (SBU) - have been arrested by Russian authorities and stand accused of illegally crossing the state border.
While Ukraine accused Moscow of "aggression," urging western countries to take action, Russia's President Vladimir Putin dubbed the whole affair a deliberate "provocation" orchestrated by Kiev before the upcoming presidential election.