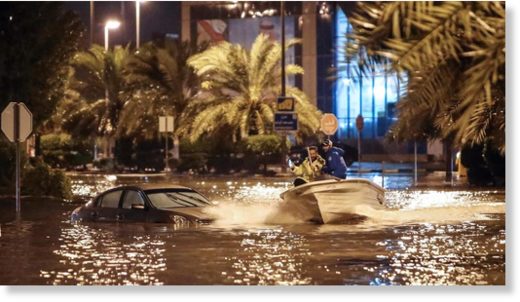 One of two potent storms descending on the Middle East triggered severe flooding in Kuwait City Wednesday through Thursday.
More than 95 mm (3.80 inches) of rain inundated Kuwait City's International Airport Wednesday into Thursday.
That is just shy of the 117.8 mm (4.64 inches) that the airport has averaged annually in recent years,
according to the Kuwait Meteorological Department.
Typically, 18.8 mm (0.74 of an inch) is an average rainfall for all of November.
Runoff from the heavy rain flooded roads and damaged some buildings,
according to Aljazeera
. Schools and public offices were closed on Wednesday and Thursday. Air traffic was suspended at the international airport.
Issues were not just limited to Kuwait
. Flooding also affected parts of neighboring Saudi Arabia and Iran.
The heaviest rain will focus on east-central Saudi Arabia, southern Iraq and southwestern Iran through Friday.
Muddy floodwaters can threaten more lives and wash out roads. Mudslides can be triggered in the higher terrain.
The worst from this storm is over for Kuwait City, but lingering showers can still cause some issues, according to AccuWeather Senior Meteorologist Dave Houk.
"The recent heavy rains that have been responsible for the flooding are on the wane," he said. "Leftover spottier showers should not aggravate the flooding but will slow the recession of floodwaters."
This is the third time this month that Kuwait has endured flooding. Torrential rain on Nov. 10 is being blamed for the death of one man, according to Aljazeera.
"There will be a welcome respite from the rain over the weekend," said Houk. "However, we are already tracking the next heavy rainmaker that could bring a renewed flood threat Monday or Tuesday."
The storm that brought the flooding to Kuwait is not the only system affecting the region.
Another storm will sweep more rain and snow across central and eastern Turkey through Friday.
Between the snow that fell on Thursday and the next round, some higher-elevation locations can receive more than 30 cm (12 inches) of snow by the start of the weekend, according to AccuWeather Senior Meteorologist Eric Leister.
A total of 2-8 cm (1-3 inches) of snow can also cause roads and sidewalks to turn slippery in Sivas late this week. Erzurum may escape the steadiest swath of snow, but wet snow may still mix with rain for a time.