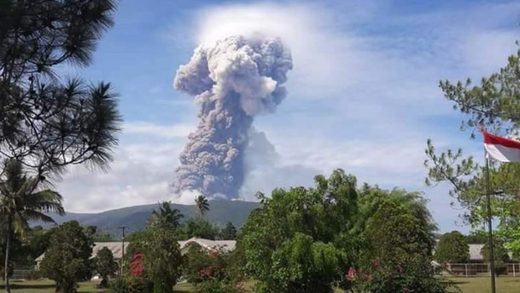 Natural disasters continue to plague Indonesia, with the Mount Soputan volcano erupting on the island of Sulawesi just days after a devastating tsunami, triggered by a massive earthquake, struck the island, killing hundreds.
After months of increased seismic activity, the Soputan volcano finally blew off steam on Wednesday morning, sending an ash column as high as 4,000 meters into the air. Ash plumes are now moving in the west and northwest direction, with an alert level III issued for the active volcano.
Communities residing within a 6.5 km radius of the summit are being advised to stay clear of the area due to potential threats of lava flow and dangers from the ash clouds. Locals who chose to stay in the vicinity of Soputan are being instructed to wear face masks to cover the nose and mouth, in order to avoid respiratory problems.
So far there have been no reports of casualties or damage on the island, already heavily devastated by last Friday's quake and tsunami which claimed the lives of over 1,300 people.
Eruption and ash emission are continuing while the Volcano Observatory Notice for Aviation (VONA) has, meanwhile, been updated to the color code Orange by the Ministry of Energy and Mineral Resources.
The National Agency for Disaster Countermeasure (BNPB), still dealing with the deadly destructive consequences of nature's wrath last week, has confirmed that so far "there have been no reports of the impact of the Soputan eruption." While BNPB continues to monitor the situation, emergency crews were mobilized to provide respirators to the affected communities. Sam Ratulangi International Airport in Manado City continues to operate normally, local media report.