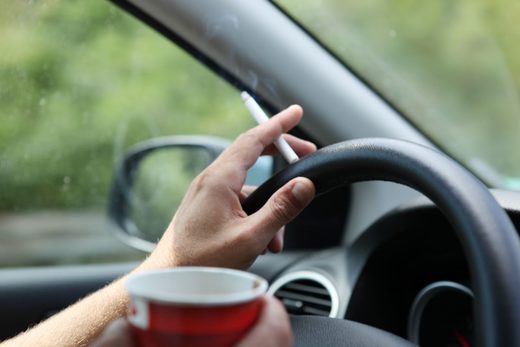 A lawmaker's recent proposal to ban smoking while driving is causing controversy.
Supporters say it will prevent drivers from being distracted while smokers claim it will infringe on their rights.
Under the traffic law, the use of cellphones or watching programs on digital multimedia while driving are banned because they are distractions.
Liberty Korea Party lawmaker Bak Maeng-woo proposed the revision bill
to fine drivers up to 200,000 won if they smoke while driving, claiming that getting a cigarette and lighting it also hinders a driver's focus.
"Banning smoking while driving will enhance traffic safety and prevent second-hand smoking damage," Bak said. "We are pushing to set the regulation for the safety of the public."
Some experts say lighting a cigarette and the smoke from it can hinder a driver's view, which could lead to an accident.
There also have been cases where cigarette butts thrown from cars have caused accidents for vehicles traveling in their wake.
In 2004, a lit cigarette butt fell inside a truck and the panicked driver crossed over the lanes, killing nine people. There was also a case where a cigarette butt thrown out by a driver caused a fire in a truck.
A Ministry of Health and Welfare survey in 2012 found that
82 percent of those surveyed were against smoking while driving, citing the possibility of accidents and the unpleasant smell. Some 97 percent said the government needs to crackdown on the littering of cigarette butts as it causes environmental pollution and could spark wildfires.
"As a non-smoker, I think it's a very good idea to ban smoking while driving," a woman surnamed Chung, in her early 30s, said. "I have seen a lot of people just throw their cigarette butts out the window and I am sick of it."
On the other hand, smokers are showing outrage at the ban, calling it an infringement of their rights because the inside of their car is their private area.
"If you think drivers can be distracted because of smoking, why don't you prohibit watching the navigation device, or eating food inside the car, too?" an online user posted on Daum.
"This is pure nonsense," said Lee Ki-wook, a Seoul resident in his late 30s. "I'm paying 4,500 ($4) for each pack and should be allowed to smoke in my car if I want. We live in a democracy; we have our rights and freedom."
The opponents say the current traffic law can punish a driver for littering the highway with cigarette butts.
But another blogger who supports the bill said: "It's true that inside the car is a private area.
But outside is public space. If you want to smoke in the private area, do not open the car window while smoking.
"
For the proposal to become law, experts say there needs to be a correlation between smoking and traffic accidents.
Bans on smoking in cars while children are in the vehicles are in force in Australian states, some states in the U.S. and several European countries.