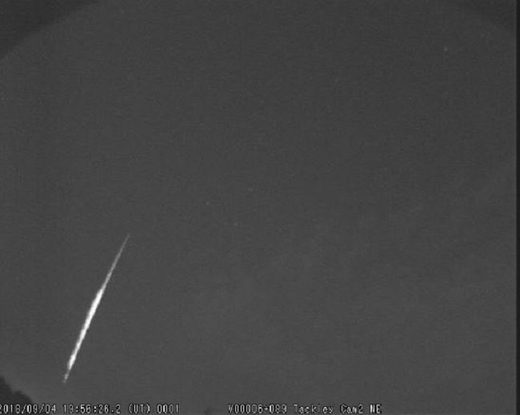 Several people have reported seeing of a very large and bright meteor over Deeside, Wrexham and the Wider North Wales region just before 9pm on Tuesday night.
Ryan got in touch with Deeside.com to say: "I have just seen a huge comet hurtling towards earth!! I live in Shotton but it really scared me. Must have broken up but i have never seen anything like it."
Nicola who lives Hawarden said: "Just seen(about 9pm-ish) a kind of large white fireball with a tail behind it shoot down the sky!!
I thought it was Armageddon!!!"
Wrexham Lager Club (@lagerwxm) Tweeted: "It was big over north Wales and shot across the sky."
@belchdeer said: "Seen above Bangor, North Wales. White ball with orange tail?"
Jenny... (@Friedelsslave) Tweeted @Wrexham "Either I have just seen the biggest shooting star in my life or that was something bigger!"
While in South Wales Paul Johnson (@Pablito999) Tweeted: "Was it glowing orange at approx 21:05? Saw a really bright glow in the sky, assumed it was the local steelworks but seemed to be coming from the wrong direction."
JoJo Smith (@jojosmith1964) said: "We saw something flying straight up around that time as we were going through Garden City, Shotton and disappeared as we got to CQ, was not falling down though, too steep of a climb to be a plane...we couldn't work out what it was." Though this was an hour earlier than the other reports.
The UK Meteor Network said they have received several fireball reports from members of the public this evening, they posted two images taken from their camera network, both captured just before 9pm.
East Barnet: