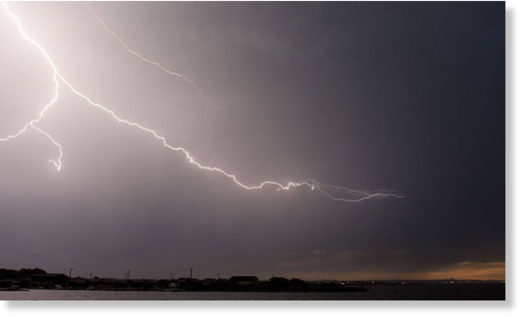 France has been hit by a brutal thunderstorm with more than 100,000 lightning strikes recorded over a 12-hour period.
Storm warnings have been issued for nine regions in the south west of France, including the Dordogne, with national weather agency Meteo France advising people to stay at home and ensure their shutters are down.
BBC weather presenter Carol Kirkwood said an incredible 100,000 lightning strikes had been recorded in France over 12 hours.
She said on Twitter: "The system bringing rain into S and E England has produced 100,000 lightning strikes in the last 12 hours across France.
"40,000 of those in N France. Low risk of lightning across our shores from this."
France citizens have been urged to avoid travelling on exposed country roads while the risk of lightning remains.
Up to four cm of rain has fallen in some areas within an hour accompanied by very strong wind gusts, reaching up to 120 km/ph.
In the region of Charente-Maritime, 70 firefighters were mobilised to clear trees that had fallen onto the road due to the storms.
Stunning images of the lightning lighting up the sky across Paris and other areas of the country have surfaced on social media.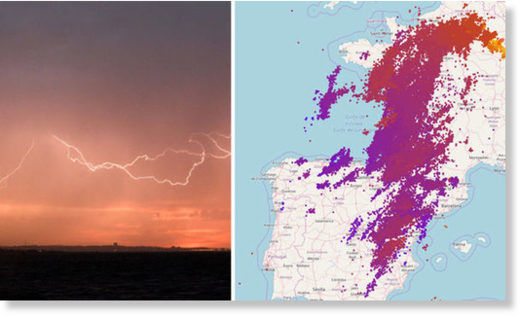 Pictures show lightning striking over the Arcachon basin in Gujan-Mestras in southwestern France.
The public has been informed that cellars may flood and property could be damaged.
According to the French lightning protection association, victims who escape death can still suffer serious burns and psychological shock.
The risk of getting hit increases with the temperature so it is more important to be vigilant when the warm weather arrives.
The main advice during lightning is to seek shelter inside, stay away from water and open spaces and avoid getting too close to trees and other tall objects.
Every year in France lightning strikes 100 to 200 people and causes between 10 to 20 deaths.
Although the lightning has been widespread across the country, it has caused little serious damage so far.
Like the rest of Europe, France has had a summer heatwave and the French met office issued a weather warning for 67 departments.
The national weather service has said that the heatwave could be among the "top three" on record for France.