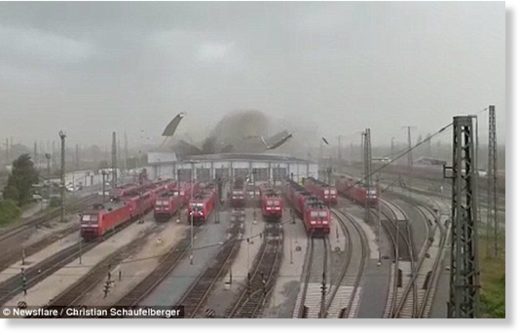 This is the dramatic moment a storm tore the roof off a train station and sent it crashing into the locomotives below.
The huge storm rolled in to Mannheim in Germany about 3pm on Thursday and swept over the train marshalling yard with destructive effect.
Witness Christian Schaufelberger said high winds first began to whip fallen branches and other debris into the air.
Then suddenly they hit the workshop of the yard and wrenched sections of the metal roof clean off, sending them flying through the air.
The metal sheets then tumbled on to the tracks as other debris billowed across the sky behind the workshop.
Later footage showed the devastated building missing much of its roof and the rain pouring inside.
Mr Schaufelberger said as dramatic as the sight looked, fortunately no one was injured.
'The damage is enormous, the technical relief organization was alerted and the building had to be evacuated,' he said.