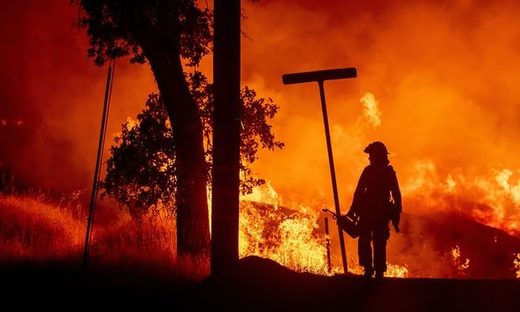 At least three dead and thousands evacuated as officials worry potentially devastating fire season has only just begun
At least three people have died and thousands have been evacuated in California as eight active wildfires continue to burn across the state. More than 3,000 firefighters have been deployed to contain the flames, and the destruction is expected to worsen throughout the weekend as high temperatures and dry conditions inhibit efforts.
The state governor, Jerry Brown, has declared a state of emergency in northern California's Shasta county, and in southern California's Riverside county, to help provide local fire crews with the resources they need to battle the blazes. Donald Trump has not yet commented on the fires.
Redding, a city of 92,000 near the Oregon border, is at grave risk from the Carr fire, which has so far killed two people. The fire is only 3% contained and has already scorched more than 44,450 aces. "Really, we're in a life-saving mode right now in Redding," said the Cal Fire battalion chief, Jonathan Cox.
"We're not fighting a fire. We're trying to move people out of the path of it because it is now deadly, and it is now moving at speeds and in ways we have not seen before in this area."
The Carr fire erupted on Monday 23 July and is being propelled by "extreme fire behavior and challenging wind conditions", according to CalFire officials. The blaze continues to threaten nearly 5,000 structures and 65 buildings have already been incinerated.
Meanwhile, in southern California, the Cranston fire has consumed 11,500 acres and is also only 3% contained. The fire threatens swaths of lands in Idyllwild, and Mt San Jacinto state park and San Bernardino national forest have both been closed.
The Ferguson fire, which has burned close to 46,000 acres near Yosemite national park and caused the death of a firefighter, prompted national parks officials to close the most popular areas, including evacuating the famous Yosemite valley at the peak of tourist season. More than 3,800 fire personnel are working to protect the groves of ancient sequoias along the western edge of the park.
The season has followed a particularly destructive and deadly fire year in the state -in 2017 nearly 9,000 wildfires tore through 1.2m acres, taking down close to 11,000 structures. Forty-six people lost their lives, making it one of the deadliest fire seasons on record in the state. This year could prove to be even worse - already this year, roughly 4,000 fires have erupted in California, scorching more than 144,303 acres, and officials say it is still early in the season.
"We are still in July, which is kind of unnerving for us here in California because we are seeing this kind of destruction happening already,"
Lynne Tolmachoff, a CalFire representative, said. "We still have at least three months - and generally the worst part of fire season - yet to come."
She explained that California's recent five-year drought killed 129m trees, which are fuel for the fires.
So are the grasses that grew over the winter but have now dried out. "It's the kindling for a big fire," she adds.
California's climate has become drier, with longer, hotter summers. Over the past two decades the fire seasons has become longer, stretching from May to November or December.
"There have been numerous homes destroyed in the Carr fire just last night and two deaths that we have confirmed already," Tolmachoff said. "So it is definitely not looking good and it's turning out to be a very difficult fire season. It could, depending on what occurs down the road, could easily meet or surpass last year."