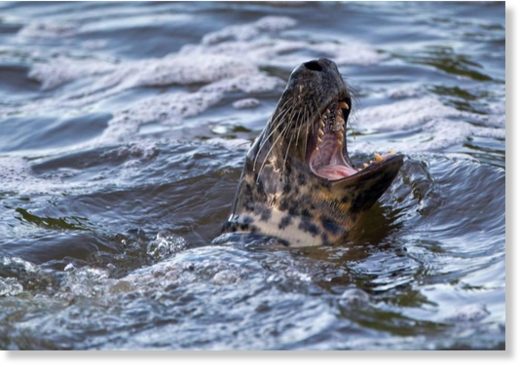 A swimmer was attacked by a seal last Friday.
The Froward Point National Coastwatch reported the attack which happened while a man was swimming in Mill Bay Cove, south of Kingswear Castle on the River Dart.
Visibility in the water was poor on Friday, July 13, and the man from Exeter was swimming on his own when the seal attacked.
Malcolm Dando from Froward Point NCI explained the man swimming felt something brush his feet and then felt a blow to his back. The seal surfaced and looked at the man again
before biting him on the thigh.
This caused the man's skin to break and some bleeding and bruising which was later described as a minor injury.
The man visited the Froward Point Coastwatch station later to report the incident and he was advised to seek medical advice as a precaution.
Coastwatch volunteers frequently see seals basking near the Mewstone at low tide. They keep a note of dolphins, other cetaceans and seals for Brixham Sea Watch whose founder
Lindy Hingley reported this to be a very rare occurrence.
She said seals tend to have poor eye sight and as this is the seal cub season, the animal was probably acting in a defensive mode, rather than aggressively.
Source: Dartmouth Chronicle