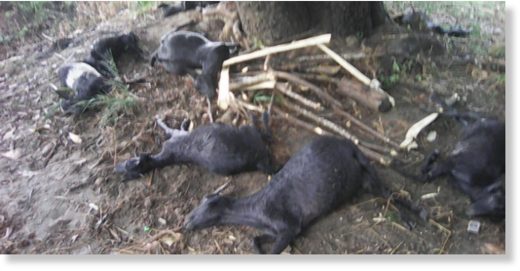 As many as 13 goats were killed after the animals were struck by lightning at Gayaganda Adivasi Colony under Jagannathprasad block in Ganjam district, Friday.
Tarsingh veterinary officials reached the village and seized the carcasses. They sent the carcasses for autopsy. Later, the carcasses were buried on the premises of the veterinary department.
Meanwhile, officials of the veterinary department have launched a probe and prepared a report on the losses suffered by the goat owners.
According to the officials, cowherds Ugrasen Mallick and Bimala Jani of Gayaganda village had gone to graze their goats in a nearby forest. All of a sudden, the village was hit by heavy rainfall accompanied by gusty surface wind and thunderstorm.
The two cowherds assembled their goats under a huge mango tree to save from the rain. However, they were all struck by lightning, leading to the death of 13 goats and injuring many others.
Luckily, the two cowherds had a close shave. On the other hand, thunderstorm and rain have led to frequent power cuts in the area as trees and electric poles were uprooted. It was raining heavily in the area till the time of filing this report.