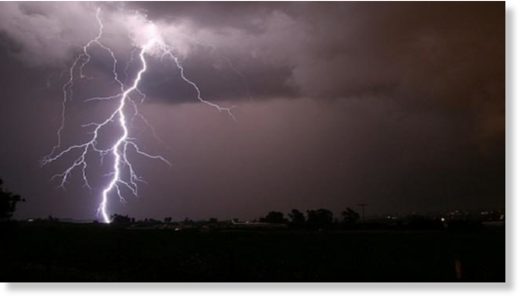 Three women have died after being struck by lightning as extreme storms struck southern China, according to an online news portal.
The women from Baise city in Guangxi autonomous region, died instantly after being struck on Wednesday afternoon, Thepaper.cn reported on Thursday.
The report said they were on top of a mountain at Dongmen Forest Farm in Pingshun village just outside the city when they were struck.
No other information about the incident was given.
Guangxi has experienced a series of storms in recent weeks.

Authorities have issued flood warnings across counties
and reminded people of storm and lightning protection procedures.
Both Baise city, and Hezhou county in northwest Guangxi, have been severely affected by extreme rainfall in the past week, the Civil Affairs Department said.
Almost 3,000 people and nearly 70 hectares of crops have been affected since Monday, resulting in losses of up to 490,000 yuan (US$76,000), Thepaper reported.
The province's meteorological observatory has said it expects heavy rainfall to lessen this month.
In April a video posted by Chinese television network CGTN showed a twister striking through the region during a heavy thunderstorm. The footage was taken by students in their dormitories, who can be heard screaming in the background.