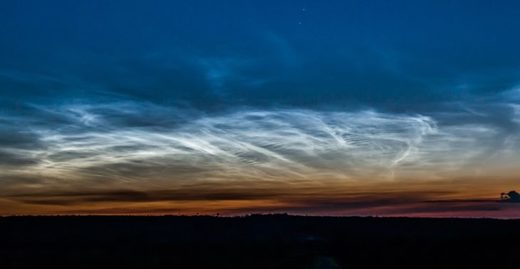 NASA's Aeronomy of Ice in the Mesosphere (AIM) spacecraft has spotted its first noctilucent clouds (NLCs) of the 2018 season. They are the electric-blue puffs circled in this image of the Arctic taken by
AIM
's
CIPS
instrument on
May 27th: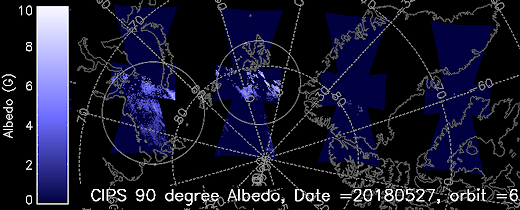 "The summer season for noctilucent clouds has begun," says Cora Randall, AIM science team member at the University of Colorado. "We spotted the first hint of NLCs in our data on May 23rd; now they are brightening rapidly."
NLCs are Earth's highest clouds.
Seeded by meteoroids
, they float at the edge of space more than 80 km above the planet's surface. The clouds form when summertime wisps of water vapor waft up and crystallize around specks of meteor smoke.
Previous data from AIM have shown that NLCs are like a great "
geophysical light bulb
." They turn on every year in late spring,
reaching almost full intensity over a period of 5 to 10 days.
This means observers on the ground could begin to see them not long after AIM does.
Early-season NLCs are usually faint and always found in high latitude places such as Canada, the British isles, Siberia and Scandinavia. To people in those areas, we offer the following observing tips: Look west 30+ minutes after sunset when the sun has dipped 6
o
or more
below the horizon
. If you see luminous blue-white tendrils spreading across the sky, you may have spotted a noctilucent cloud.