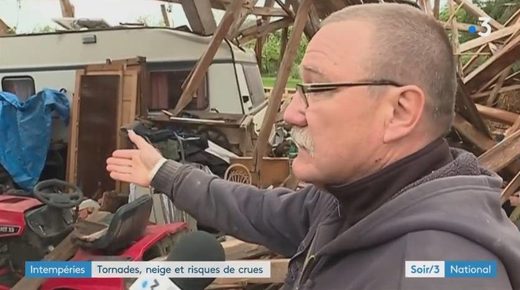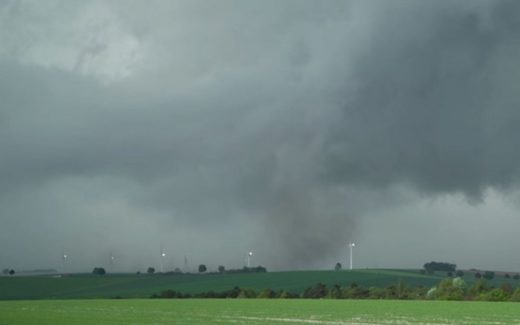 The phenomenon caused significant material damage in three villages in the department.
From a distance, the phenomenon is fascinating. Up close, it' s scary. On Sunday, a tornado formed in the Marne and caused severe damage in three villages in the department, describes
L'Union.
Identical phenomena were reported in the Aube and in the Ardennes, then placed on orange alert. But how can such a characteristic "tuba", immortalized by a storm chaser, appear?


How does it form?
A tornado is the result of the encounter between two air masses with a large temperature difference. On Sunday, the encounter between the warm air coming up from the south towards Alsace and a colder mass coming from the Atlantic led to the formation of this storm.
But if these impressive tornadoes can travel tens of kilometers and be formed of a tuba much wider in the United States, their French cousins have a shorter lifespan, details Météo France. Their lifespan is shortened because the sea air is never relatively far away in our region, which tempers our climate and disrupts these tornadoes," explains Frédéric Decker, meteorologist at Météo News.
Why in this season?
Precisely because the middle of spring is favourable to this kind of hot and cold air encounters. A week ago, France was enjoying summer temperatures. And this Monday, the snow fell in Normandy.
"There, we are in a situation where the same day, it was 10°C in Normandy and 25°C in Strasbourg" describes Frédéric Decker. Very strong contrasts, more likely to be created in the middle of a season like spring than in the middle of winter.
Is it a classic phenomenon?
Questioned by
Le Parisien
, Météo France insists on the "exceptional character" of Sunday's images. "On average, we have four or five a year" continues Decker. "But the number can fluctuate enormously from one year to the next."
No official wind speed measurements could be made in the Marne, but the notable damage - collapsed buildings, roofs and trees uprooted - makes it possible to affirm that the gusts reached locally between 150 and 200 km/h. Three people were injured when a tree fell on their car. In January, another tornado struck the Pyrénées-Orientales.
A new video of the Maureillas tornado in the #PyreneesOrientales, filmed by Jean Pierre Grau from Saint-Jean-Pla-de-Corts.
Translated by SOTT.net