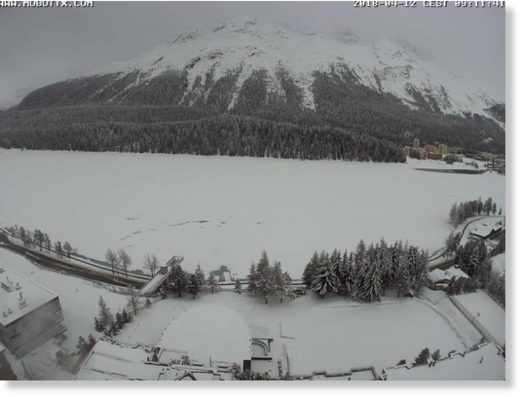 It's a real mix of weather in the Alps - and indeed most of the rest of the world's major ski regions - this week.
There's been sunshine, rain and even lots of sow depending on the time and the place as the 2017-18 season continues to wind down.
Some ski areas including Andermatt and St Moritz (pictured top today) have reported 30cm of 24 hours but the biggest accumulation this week is a whopping 95cm (3 feet, 2 inches) at Isola 2000, located north of Nice in the southern French Alps.
Most resorts have had at least some snow. Other areas posting good 24 hour totals in the past few days include
20cm at Bonneval Sur Arc and at Tignes in France. Prato Nevoso on the Italian side of the border reported the same 24 hour total on Tuesday-Wednesday and there was 20cm of fresh snow also at Piau Engaly in the French Pyrenees.
Most resorts will close by the end of this Sunday, if they have not done already, but dozens of the big name resorts will stay open for another week or two after that and some in to May and beyond.