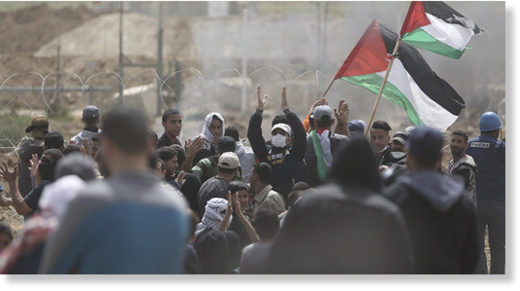 Thousands of Palestinians are demonstrating in the third round of the six-week-long protests in the border area between Israel and Gaza. 130 protesters have already been wounded by Israeli fire, whereas even larger protests are expected after Friday Muslim prayers.
At least 130 Palestinian protesters have been injured as tensions at the Israeli-Gaza border begin to heat up on the third consecutive Friday of protests, Gaza's health ministry reported. The spokesperson for the
Israeli Defense Forces has confirmed that Israeli troops are deploying tear gas and using live fire in order to disperse protesters at five points along the security fence.
IDF troops are responding with riot dispersal means and are firing in accordance with the rules of engagement. The IDF won't allow any harm to security infrastructure & will act against the violent rioters & terrorists who threaten either
Local media report that the Israeli army has closed all roads leading to the Gaza strip.
Organizers call on the demonstrators to burn Israeli flags and raise the Palestinian ones.
According to videos emerging in social media, people in some Arab countries express solidarity with the Palestinian protesters.
Earlier, the Israeli military warned that protest actions which would turn violent will get a response.
The six-week protest campaign, dubbed the Great March of Return, was organized by the Hamas movement and began on March 30. According to Hamas, Palestinians are peacefully demanding their right to return to the territories they claim were illegally seized by Israel, while Israeli authorities say that Palestinians can settle only in Gaza and the West Bank.
According to the Gaza health ministry, since the start of the protests, over 30 Palestinians have been killed and more than 1,300 got wounds.
The protests will reach its culmination on Nakba day, May 15, the date which marks the so-called "catastrophe" when millions of Palestinian marchers had to flee their homes after the creation of the state of Israel.