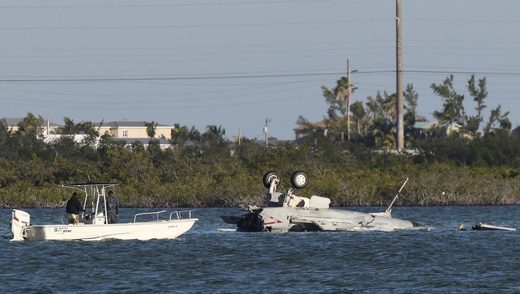 It's been a bad few weeks for U.S. military aviation.
Since a U.S. Navy F/A-18 Super Hornet crashed off the Florida coast March 14, killing both pilots, there have been
four more aviation accidents
that have claimed a dozen more lives. And that's just this year.
In the last three months of 2017, four major accidents killed 12 more service members.
That's 26 deaths in six months.
That can't be normal. Or can it?
Pentagon officials have to tread warily when discussing unusual clusters of deadly accidents that may be a statistical anomaly, but are nevertheless tragic and may have been avoidable.
So even if the safety data indicates that the number and rate of military accidents are on a par with years past, no military official can be seen as callously dismissing deaths as simply a normal cost of doing business.
"It's never normal when servicemen and women lose their lives. And I think that's a tremendous tragedy. So, certainly, that's not normal," said Lt. Gen. Kenneth McKenzie at a Pentagon briefing Thursday. "And our response to it is never normal. We look very hard, through a well-established procedure of examining each mishap."
Military investigators examine each accident to look for a common thread: Was there a lack of training, a mechanical problem, pilot error? Was weather or hostile fire a factor? Is one particular type of aircraft experiencing higher-than-normal accident rates?
The Marine Corps seems to be particularly snakebitten. It has lost 20 Marines last year in three deadly crashes, and four more this year, in an April 3 training accident, in which a CH-53 helicopter crashed in the California desert.
But each of the crashes involved different aircraft in different circumstances, and
no single causal factor has been identified.
"Every mishap is unique, and we have not found a causal, statically accurate link between readiness and mishaps," said Capt. Sarah Burns, a Marine Corps spokeswoman at the Pentagon. "The Marine Corps conducts thorough investigations to learn and attempt to prevent future mishaps."
When a big plane or helicopter goes down, it can spike the numbers making a particular year look especially bad, or some other year particular good by comparison.
For example, last July's crash of Marine KC-130 that exploded in midair claimed 16 lives. The cause has not been determined, but ammunition on board may have been a factor.
The military closely tracks what's known as Class A Mishaps, accidents with either loss of life or more than $2 million in damage.
The number is converted to an average of mishaps per 100,000 hours of flight time, to produce an accident rate that can be used to make year-to-year comparisons.
In the Marine Corps, the accident rate has been slowly creeping up from 3.24 in fiscal year 2015, to 3.99 last year. The Marine Corps says the numbers for this year are not available.
While civilian aviation gets safer every year, the military has never been able to come close to the safety record of commercial airliner
, which fly only in the best conditions and under strict Federal Aviation Administration maintenance and operating rules.
The crash of an F-16 pilot this month happened as the Air Force pilot, a member of the elite Thunderbirds demonstration team, was apparently practicing precision aerobatic maneuvers.
The deaths of seven airmen came as result of a special operations Pave Hawk helicopter hitting a power line in a combat zone.
"I'd say mishaps happen in military aviation any time you're flying complicated machines situations where you've got less than total visibility and doing things that are difficult to do," said McKenzie. "One mishap is too many. But I'm not prepared to say right now that this is some kind of crisis."
Numbers provided by the Army show the accident rate and number of deaths for the first half of the fiscal year below last year's rate.
But as the recent spate of crashes shows, a good year can turn into a bad year overnight.