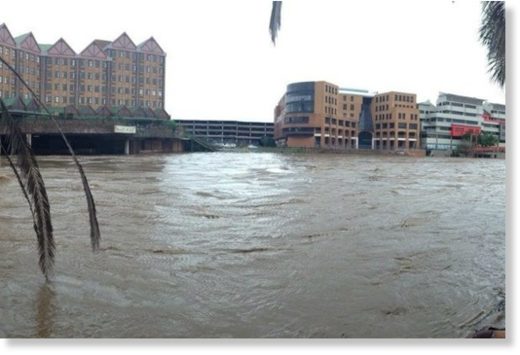 Parts of Gauteng Province in South Africa were hit by a severe storm from 22 March, 2018. Some areas recorded more than a month's worth of rain in 24 hours.
Areas around Johannesburg and Pretoria were particularly badly hit. Strong winds have downed trees and heavy rain had flooded several roads, causing major traffic problems.
A massive sinkhole appeared on the M24 Route between Gauteng and Valhalla.
The Johannesburg Roads Agency (JRA) has asked road users to be careful following heavy rains, particularly when crossing bridges.
The heavy rain also caused some rivers to overflow, including the Hennops river, which has flooded wide areas of Centurion, south west of Pretoria.
Local media report that some homes in northern Johannesburg were evacuated. The City of Johannesburg Emergency Management Services were responding to the flooding incidents and said no injuries or fatalities have been reported.
Rainfall
South Africa Weather Service said that
Pretoria recorded 145 mm of rain and Johannesburg 117 mm in 24 hours to 23 March. The average monthly rainfall for March in Johannesburg is about 90 mm,
according to WMO figures.
Social media
ALERT☡::Current situation M1 North Athol three lanes affected. Please exercise caution when driving in this weather🌧. Reduce Speed limit☠ pic.twitter.com/mdy12whXKJ

— AsktheChiefJMPD (@AsktheChiefJMPD) March 23, 2018
JHB - #FLOODING N12 Highway: Daveyton off-ramp, via @KgabaTau pic.twitter.com/e4OKDv3pzC

— Rob Beezy (@TrafficSA) March 23, 2018