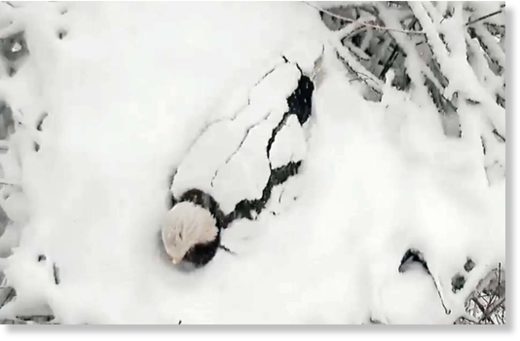 Neither snow nor rain nor ... more snow stopped the Pittsburgh Hays bald eagle from tending to her two eggs Wednesday.
A live webcam caught the eagle seemingly buried in snow while incubating eggs that are expected to hatch today or in the next week, according to Rachel Handel, spokeswoman for the Audubon Society of Western Pennsylvania.
The Pittsburgh winter doesn't stop the nesting progress of these birds.
The once endangered raptor is quite hardy and acclimated to the snow and cold with the nation's largest population living in Alaska.
The Hays eagles nest on a bluff above the Monongahela River and are the first pair of eagles to breed in the city limits in at least 150 years.
This is their six year of nesting on the same hillside.
CSE Corp. and Audubon have live webcams on the eagle nests in Hays and Harmar, with both pair of birds incubating two eggs.