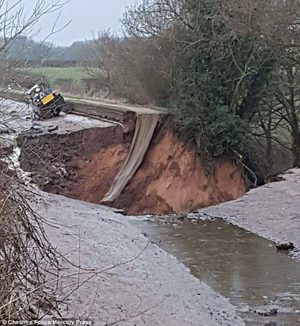 A sailor was nearly sucked down a 100ft-wide sinkhole that opened up on a canal while he was boating.
The giant crevice appeared on a stretch of the Shropshire Union canal in Middlewich, Cheshire, at 11.40pm last night.
As the sinkhole opened it sucked the water from the canal causing the sailor and his boat to be dragged back before coming to a halt just feet away from the crack.
The canal was left completely drained and the water flooded down onto a lower embankment.
Police found the man aboard the nearby boat and he was plucked to safety.
A dramatic picture of the scene this morning shows the vessel just feet away from plunging down the hole.
An officer who attended the scene tweeted: 'Seeing the Middlewich sinkhole in the light of day highlights just how lucky the man in the boat was. Think he'll be picking some numbers this evening.'
A Cheshire Police spokesman said: 'At 11.42pm we received a report that a section of the Shropshire Union canal across an embankment had subsided.
'The contents of the canal flooded the lowland of the surrounding area, but it doesn't appear to have flooded any houses.
'There hadn't been significant impact of the local area, there has been significant damage to the canal.
'A male was found on board nearby and removed to safety.'