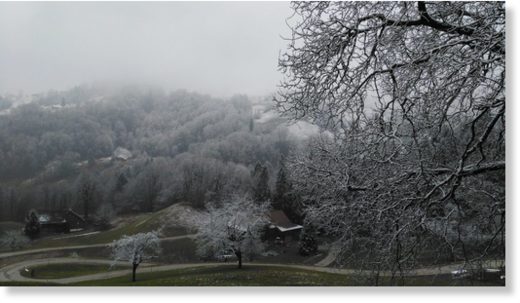 It's a case of "now you see me, now you don't" as the Swiss spring takes a break in the north of the country.
After a snowy weekend in some places, much of Switzerland is set for a cold and grey start to this week
with maximum temperatures in the north of the country only just above freezing.
While Geneva can expect to bask in a decidedly more spring-like maximum temperature of 8C on Monday, in Zurich, Bern and Basel the mercury is set to top out at 3C. Meanwhile, in St Gallen it will be a decidedly cold -1C.
There isn't much relief in sight either:
weather in the north of Switzerland is expected to remain on the chilly side until the weekend. Night time temperatures will be between -3C and -6C up until Friday
. On the plus side, skies should brighten from Tuesday onwards.
And while this week's relatively cold spell has nothing on the arctic front that slammed Switzerland recently,
SRF Meteo noted that is unusual to get some many cold days in a row from mid-March on.
The northwest of the country has borne the brunt of the recent weather. With a top temperature of -0.9C, Basel on Sunday shivered through its coldest March 18th since 1975.
It was also the second coldest March 18th on record.
The city of Basel also saw some five centimetres of new snow while the Basel region and the canton of Solothurn were blanketed with up to ten centimetres of the white stuff.