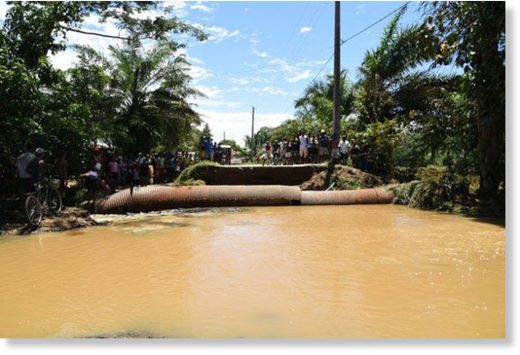 A powerful tropical storm which swept through Madagascar has left 17 people dead and affected thousands of others, according to an official toll published on Sunday.
Storm Eliakim packed winds of up to 105 kilometres (65 miles) an hour after hitting the northeast of the Indian Ocean island on Friday and barrelling down the east coast.
15,000 Affected
The death toll was announced by the country's disaster management office, which also said 15,000 people had been affected by the storm.
Madagascar, one of the poorest countries on the planet, has been hit by about 40 cyclones and tropical storms over the past 10 years.
In January, cyclone Ava claimed 51 lives and in March last year at least 78 people perished in cyclone Enawo.
Most of the latest deaths occurred on the eastern coast of the island nation, according to the Bureau for Risk and Disaster Management (BNGRC).
BNGRC said the storm had affected over 10,300 people and displaced at least 2,450 others in the northern district of Ambilobe and the eastern one of Soanierana Ivongo.
The disaster agency further said some 630 houses were flooded, with at 260 others destroyed.
Maroantsetra, Andilamena, and Mandritsara were reportedly the worst affected by the storm.
Other Storms
The death toll was expected to rise with many more people affected by the storm.
The Malagasy Meteorological Service said the cyclone Eliakim exited Madagascar through the Vatomandry District in the middle-eastern coastline at 9am on Sunday.
Eliakim was continuing its path towards the south-east in the Indian Ocean after having affected almost half of Madagascar.
BNGRC warned of landslides and floods in Sofia, Analanjirofo, Atsinanana, Alaotra-Mangoro, and Vatovavy-Fitovinany regions.
Authorities also strongly advised against fishing and any travels by sea until further notice.
UN officials planed to carry out an aerial assessment of the damage in the prone-areas on Monday.
Only one of the four Indian Ocean-born cyclones reported since January has not hit Madagascar, and others were expected before the end of the wet season in May.
However, significant improvement in the natural disasters and risks-related information sharing system has helped communities to mitigate the consequences.
Sources: AFP, AFRICA REVIEW