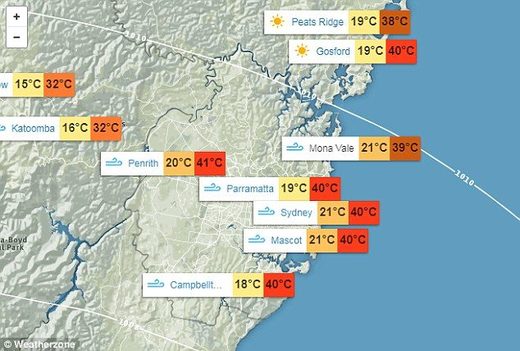 Sydney has sweltered through its hottest autumn day in 78 years, with temperatures soaring past 40C on Sunday.
The mercury hit 40.5C at Sydney Airport in the city's inner-south, a staggering 16C higher than the average March temperature of 24C.
Even the eastern beaches saw temperatures as high as 39C as north-westerly winds counteracted any sea breeze.
Weatherzone meteorologist Graeme Brittain told
Daily Mail Australia
the scorching temperatures were 'highly unusual'
.
Mr Brittain said wind gusts in excess of 90km tore through the New South Wales coastline, but brought little reprieve from the heat.
He warned temperatures would likely remain high overnight.
Sunbathers flocked to Sydney's beaches on Sunday amid the sweltering autumn heatwave.
Bondi beach was packed with revellers in search of some relief from the scorching hot temperatures.
Meanwhile, an emergency warning was issued to residents in Bega, in New South Wales' south-east.
An out-of-control bushfire tore through Tarraganda and Tathra near Bega on Sunday.
Residents were told to evacuate the area as a number of homes were damaged.
A total fire ban was enacted in 11 areas in NSW on Sunday, as the state battled hot and windy conditions.
Brisbane saw highs of 30 degrees with the remnants of tropical cyclone Linda causing dangerous surf and high tides along the Queensland coast.
Melburnians also enjoyed high temperatures with a max of 27 degrees on Sunday.
Adelaide escaped the heatwave, with temperatures hitting only 22C with some showers. Canberra saw the mercury hit 33C while Hobart enjoyed 27C.
Darwin residents also roasted in 31C heat.
On the west coast, Perth temperatures sat in the low 20s - welcome relief after recent hot spells.
There was also a storm warning for the northern coast of WA as Tropical Cyclone Marcus makes its way down from Darwin where it brought 130km/h winds and left 25,000 homes without power.
Strong winds along with high temperatures and lack of rain will also increase the bushfire danger across NSW, Victoria, and South Australia.
Authorities are so worried about bushfires they have put in place a total fire ban in parts of Victoria and New South Wales on Sunday.
CFA State Duty Officer Greg Christison said 'the declaration should act as a reminder that the summer fire season is not over and that we need to remain vigilant and be prepared.
'Hot and windy conditions could make it difficult for firefighters to suppress a fire should one start, therefore we are asking people to take heed of the Total Fire Ban conditions,' Mr Christison said.
'People need to be aware of the increased fire danger and ensure your fire plan covers all possible contingencies.'
Sydney temperatures are expected to drop significantly by the end of the week and into the weekend.
The mercury will likely dip to 19C on Wednesday, paired with a 70 per cent chance of rain.
Showers are likely to continue on Thursday, Friday and Saturday, as temperatures hover around the low twenties.
Showers are also likely to fall over Melbourne at the weekend, with 90 per cent chance of 10-20mm on Saturday.