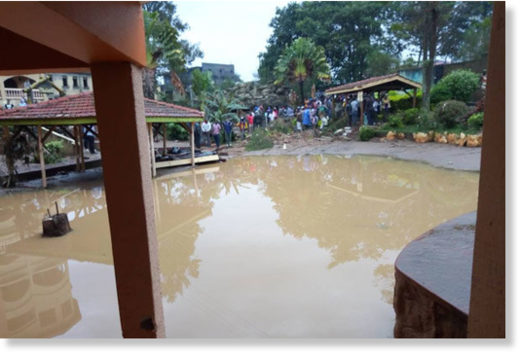 Police in Mbarara District have confirmed one person dead and several others displaced by floods following a heavy downpour on Wednesday.
A building under construction at Rwizi Arch Hotel in Kamukuzi Division collapsed also due to heavy rain.
Running water around the same area swept unspecified number of people who were traveling on Boda bodas.
The Rwizi region police spokesperson, Mr Samson Kasasira said police are doing all they can to rescue people.
"By the way rain in Rwebikoona has washed away people and so far two motorcycles have been recovered," Mr Kasasira told our reporter.
He identified the deceased as Vincent Mubangizi in his late 20s. His body was taken to Mbarara regional referral hospital mortuary for postmortem.
Heavy downpour in Mbarara started from around 7pm to 8pm
Other people who were using these motorcycles have not been seen.
The rain caused a lot damage around town and police are compiling the details.